Okada Aiyon Corp, Japanese leading demolition attachment brand, has introduced a new hydraulic breaker, TOP205J, which weighing 1800kg and suitable for 18 to 26 ton of class carriers. TOP205J can be the solution in hard and tough rock breaking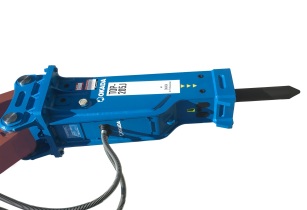 The TOP205J. (Image source: Okada Aiyon Corp)
In addition to the reliable technology proven by decades of history, TOP205J comes with redesigned blow speed adjuster which the operator can choose high or low speed of breaker to best perform in different application.
Breaker bracket is made of heavy gauge high tensile steel and boxed structure and is designed to afford maximum protection to the breaker body.
All maintenance windows which give access for routine maintenance work are well covered with steel plates or rubber caps which block an entry of dust or foreign material.
Okada Anti-blank hammer system, which is incorporated into TOP205J as standard feature reduces machine troubles resulted from the blank hammering and improve the productivity.
Okada?s exclusive control valve mechanism switches the hydraulic circuit with complete reliability at all times. Maintenance is easy to because a bolt-on, detachable type system is used.
High-pressure accumulator built into the breaker unit protects your carrier excavator from pressure surge and supplies the hydraulic power during the piston striking motion.
Every step in production, from material selection and machining to hardening and final assembly, is controlled by an exhaustive quality control system. To ensure the absolute best quality possible, each unit is fully tested in a specially equipped room dedicated to performance inspection.