The new Wraptor A6500 Wire Identification Printer Applicator from Brady can help increase production output by identifying cables with wrap-around labels in five seconds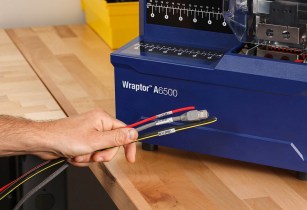 Wraptor A6500 can help control manufacturing cost and enhance identification quality. (Image source: Brady)
The Wraptor automatically prints and applies the label on a wide range of insertable cables, saving up to 10 seconds per identified cable.
The Wraptor A6500 is a great tool to control manufacturing cost and enhance identification quality by automatically printing and applying labels. It identifies cables in five seconds, eliminates the need to print labels in advance and the time needed to apply them by hand. The Wraptor?s technology enables 300 dpi prints for barcodes, logos and diagrams, and a tight label wrap around the wire, with minimal bubbling or wrinkling.
The Wraptor A6500 is designed to quickly apply Brady's durable B-427 self-laminating vinyl and B-499 nylon cloth wrap-around cable labels designed to last even in challenging industrial environments. The self-laminating label offers excellent abrasion, fuel and oil resistance, great outdoor durability, has self-extinguishing properties and is available in multiple colours. The nylon cloth wrap-around label offers abrasion, fuel, oil, dirt, heat, cold and chemical resistance. Complete technical data sheets for both labels are available.
Automate your cable identification with the new Wraptor A6500!
Calculate ROI & Request a demo!