Caterpillar has opened a regional training centre for the Middle East and Africa (MEA) in Dubai, UAE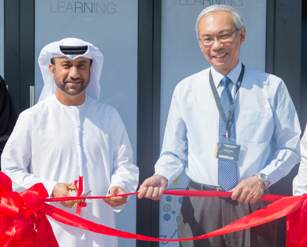 (From left) Ibrahim Mohammed Al Janahi, deputy CEO and chief commercial officer of the Jebel Ali Free Zone with Raymond Chan, Caterpillar V-P for Asia Pacific, CIS, Africa & Middle East Distribution Division. (Image source: Caterpillar)
The centre will offer hands-on machines and power systems technical and sales training to Caterpillar?s dealers and customers in the MEA region, according to company sources.
Located at Caterpillar?s Middle East parts distribution centre and regional sales and marketing office in Jebel Ali, the centre is expected to be operational in Q4 2016. At an investment of more than US$7mn, the 1,700 sq m centre will employ about 40 people, mostly high-level technical staff who will primarily be recruited from the region.
More than 7,000 Caterpillar technicians in MEA have direct connections with the customers and the training that they receive at the new centre in Dubai will help to enhance their skills and knowledge on both product and the latest product support technologies, company sources added.
Nigel Lewis, vice-president for Caterpillar?s EAME Distribution Division, said, ?Our training centre in Dubai is a key part of our plans for the Middle East and Africa and will assure Caterpillar and our dealers can be relied upon for providing unsurpassed support to our customers. This is an important region for Caterpillar and we expect to see strong, continued growth for our customers, and we will grow to support that.?
The centre will also feature a lab for scheduled oil sampling analysis that will help meet critical customer required turnaround time of emergency samples and reduce downtime of Caterpillar products in the region.