Emirates Motor Company (EMC) Daimler Commercial Vehicles and Liebherr will be supplying 200 units of Mercedes-Benz Actros trucks with mixers to help firms across the UAE deliver on their infrastructural commitments to the growing landscape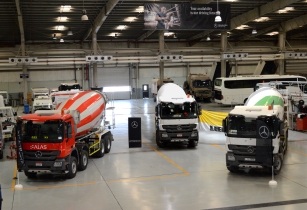 The combination of Mercedes chassis and Liebherr mixer bodies are a perfect technically coordinated fit and form reliable and high-quality truck mixer units. (Image source: Mercedes-Benz)
The partnership will comprise a supply of 200 Actros 8x4 with 12 CBM Liebherr Mixers, out of which 100 units will be supplied to one of the largest ready-mix companies in the UAE.
The state-of-the-art technology will come with a ?Connected Trucks? concept where a unique Fleetboard system will be used for vehicle tracking and driver?s performance measurement. The combination of Mercedes chassis and Liebherr mixer bodies are a perfect technically coordinated fit and form reliable and high-quality truck mixer units.
EMC is the authorised Mercedes-Benz distributor in Abu Dhabi and the flagship company of ALFAHIM. It will supply top-of-the-line Mercedes-Benz commercial vehicles with a five-year extended warranty. Plus, a comprehensive repair and maintenance contract for five years will be included with full support all over the UAE.
Additionally, EMC will provide drivers? training courses for enhanced safety on the road and economical driving techniques.
Bilal AlRibi, general manager of EMC Daimler CV, said, ?We are excited about our partnership with Liebherr as we continue to support Abu Dhabi and the UAE reach their visions. Our aim is to provide the best vehicles and technology to meet the needs of our client?s business. Nothing fits this description better than the Mercedes-Benz brand promise and EMC?s commitment to service excellence.?
Liebherr?s marketing and sales director Markus Mueller added that the strategic partnership with EMC aims to increase its existing mixers to address the growing demand in the infrastructural industry where comfort, economy, driving dynamics and variety are concerned.