HAMM have unleased a new generation of pivot-steered tandem rollers: The HX series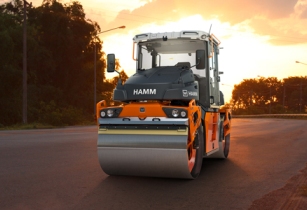 The HX series is the new flagship for the HAMM fleet. (Image source: HAMM)
Replacing the previous DV+ series, it provides intuitive operation with easy drive, high performance data, many comfort features and sustainable operation, as well as the "Smart Compact" digital compaction assistant.
Furthermore, HAMM has put many detail improvements, new options and interfaces into practice in the HX series. All models are available in countries with the EPA Tier 4/EU Stage V emissions regulation.
High degree of precision
The HX series is the new flagship for the HAMM fleet. Designed for asphalt compaction, the HX 70i model (7 t/55.4 kW) and HX 90i (9 t/74.4 kW) achieve high surface outputs on large construction sites. What's more, they also impress in tasks such as compaction in curves with a high degree of precision. Here, the pivot steering shows its strengths with a large turning angle, large track offset and four different steering modes.
Intelligent drive control with automatic reversing
A foundation for high compaction quality is intelligent drive control with automatic reversing. In combination with the electrically adjustable seat operating unit, it guarantees quality and comfort. It brakes and accelerates the rollers quickly, but smoothly. The seat also turns automatically in the direction of travel when reversing. This is unique in the market. It produces first-class surfaces and ensures ergonomic working with safety at all times.
Improved field of vision
New LED turn indicators and details around the cab give the HX series its distinctive design. The fully glazed panoramic cab offers a vastly improved field of vision with an excellent view of the drum edges. Optionally, lighting for drums and drum edges can be added. A camera system with two robust monitors (IP 67) are integrated as standard to provide optimal vision. Thanks to division of the screen, views to the front and to the rear are always visible regardless of seat position. Still unique is the cab floor's glass window for viewing the drums. It can be folded in for cleaning.
Sustainable compaction, fuel savings
The engines work at a lower speed of 1500–2000 rpm, which reduces fuel consumption as well as noise and exhaust gas emissions. Here, powerful travel pumps ensure high compaction power. Furthermore, the automatic engine stop automatically switches the engine off after an extended period of inactivity. Smart Compact also contributes towards sustainability. The assistant additionally saves up to 15% of fuel by switching off the vibration or oscillation as soon as it is no longer useful. Finally, the rollers can be operated with diesel or HVO fuel.
Modern solutions for documentation, communication and maintenance
Thanks to numerous interfaces and the corresponding hardware, the rollers in the HX series are prepared for future applications and challenges – be they quality, documentation or communication challenges. HAMM also offers the option of integrating systems for avoiding collisions with a PDS (proximity detection system) interface. In addition, the telematic system JDLink is on board in all models, which can be used to call up elements such as performance data for rollers, fill levels, error messages, operating hours or service intervals – any time, anywhere.
Nine models and split drums
The HX series rollers are available with 7 t (HX 70i) and 9 t (HX 90i) operating weight. Among the nine total versions are models with two vibrating roller drums, an oscillation and an vibrating roller drum as well as combination rollers. Here, the vibration and oscillation drums are made as a split or non-split drum depending on the model.