Haulotte electric scissor lifts facilitated the annual covering ceremony of the holy Kaaba in Mecca, Saudi Arabia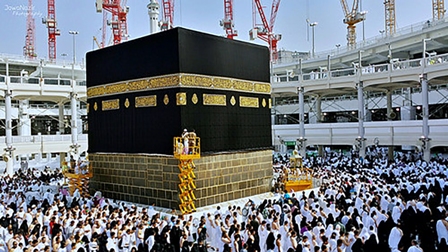 The scissor lift's non-marking tires that do not damage floors was one of the reasons it was chosen for the task. (Image Source: Haulotte Group)
The annual ceremony where the holy Kaaba is covered with new kiswa (cover), which occurs every year on the tenth Dhul Hijjah coinciding with Hajj, the annual Islamic pilgrimage to the Holy City, is an important ritual in the holy calendar.
This year the ritual was facilitated by Haulotte Compact 14 model electrical scissor lifts. The model was selected owing to its optimal 350kg lifting capacity, its ability to be driven at full height of 14 metres. The machine?s non-marking tyres and its safety features were was additional reasons for the choice.
Roots Group Arabia (RGA), the company?s dealer in Saudi Arabia, supplied a significant number of Haulotte electric aerial work platforms to perform this traditional task.
The company added that it takes pride in putting its technology at disposal of the maintenance and preservation of sites with such cultural importance.