Hitachi Construction Machinery?s new EH1100-5 truck is loaded with cutting-edge technology, just like its excavators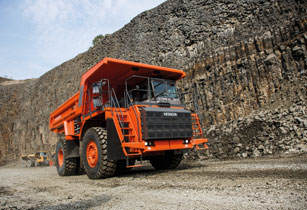 The hauler is the perfect match for large construction sites and small- to mid-size quarry and mining operations. (Image source: Hitachi)
The rigid drive hauler is designed to develop low cycle times and extra efficiency in heavy duty applications like quarrying and mining, along with low operating costs, enhanced productivity and overall quality through superior structure and systems design, says the company.
It uses an 18 mm floor plate and eight mm side plates made of 400 BHN high- tensile steel. This provides high resistance to wear and impact. A low loading height and large target area allow easy, quick loading by a variety of loading tools. The hauler?s frame rails are tapered from front to rear to distribute the load evenly over the entire length of the chassis and the castings has been replaced by hot rolled steel, which is more homogeneous and easier to repair. The weld joints are oriented longitudinally to the principal flow of stress for strength and long life.
The high-quality truck also comes with state-of-the-art ultrasonic testing. To make dumping easier, a single sloped floor evenly distributes material shedding and the horizontal floor and side rail stiffeners distribute load shocks evenly over the entire body length, minimising stress concentrations in any one area. Closely spaced floor stiffeners reduce wear due to impact loading. Moreover, the hauler is narrow at the rear to support the load and wider at the front to allow stability and easier engine access for servicing.
The dump truck has large radii at frame junctions to minimise stress concentrations as well as the weld joints are oriented longitudinally to the principal flow of stress for greater durability and more strength. The frame is made up of 345 MPa tensile yield strength low alloy steel that is robotically welded to ensure consistently high quality welds.
Equipped with a Lincoln Auto-Lubrication system, the lubricant is delivered in time-controlled and metered quantities to all connected lube points in the truck and a ground level accessible grease pump assembly automatically feeds lubricant to grease points throughout the truck via plumbing. Additionally, the Hitachi ACCU-TRAC suspension system delivers excellent maneuverability, even at higher speeds. The NEOCON strut, used with the ACCU-TRAC suspension, improves operator and component isolation, providing better hauler stability and predictable operational control.
The suspension system features independent trailing arms for each front wheel with NEOCON struts, containing energy absorbing gas and compressible NEOCON-ETM fluid (silicon-based, non- petroleum), mounted between the king pins and the frame. This arrangement allows a wider front track that provides a better ride, improved stability and a reduced turning circle. It also responds favourably whether traveling empty or with payload in a wide range of ambient temperatures. The rear NEOCON struts are mounted in a more vertical position, which allows more axial loading and reduces the tractive and braking forces transmitted to the nose cone.
The diesel-powered engines bring both strength and reliability, along with EPA Tier-2 emission certified engines that maintain a low fuel consumption level. Hitachi?s truck monitoring and control is performed by Hitachi electronic components and software, resulting in increased machine reliability and operator comfort.