Rich Carpenter and Silvia Gonzalez from Emerson explains why the inclusion of IoT functionality in machine designs should now be considered the norm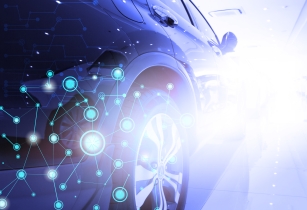 Advanced web-capable HMI software now moves beyond basic visualisation by incorporating various IIoT functions. (Image source: Emerson)
Adding functionality to a product or machine adds cost, and can consequently be regarded as a problem rather than an opportunity to increase return on investment. However, industrial internet of things (IIoT) hardware and software technologies are turning conventional wisdom related to costs versus benefits on its head, because the initial outlay is minimal, while the immediate and future advantages are significant.
Critically, end users are now very aware of modern IoT capabilities and actively demand this functionality to enable operational improvements and future-proof their assets. The demand from end users, and the opportunity for OEMs to create differentiated offerings and new business models with customers, has brought OEMs to the conclusion that IIoT-capable hardware and software should be built-in to new machines, whether it is used immediately or not.
Data requirement
OEMs have always added new technology and functionality to the new generation of machines, but customer demand for greater reliability and efficiency requires a step change in capability. This places the onus on OEMs to design equipment that offers a broader range of operational data, the need to add instrumentation and implement enhancements that help to provide easy connectivity.
End users are also looking for more than just raw data ? they need actionable information, available locally or remotely, that helps to increase the operational performance. With the right information in the hands of those that need it most, users can then maximise the benefits from equipment functionality, reduce consumables usage and improve operator efficiency, helping to increase profitability while reducing risk.
Like most businesses, OEMs strive to minimise costs and maximise profits, but the cost of building-in IIoT capability to machines, be that using wired Ethernet protocols such as PROFINET, EtherNet/IP, Modbus TCP/IP, or cellular, satellite or industrial wireless solutions such as WirelessHART, is now so low and can deliver so much value for both end users and OEMs in the future, that its inclusion should be considered mandatory.
This requires OEMs need to transition from developing the lowest-cost machines with ?just enough? functionality, to building machines with embedded IIoT that can meet evolving customer needs and respond to future demands through software updates. The right hardware, software, instrumentation and data networking elements makes this possible, helping to integrate and analyse data from intelligent devices and sensors that can be separate from the automation system, helping to provide greater operational insight.
This could support condition monitoring, with data collected from vibration sensors, bearing temperature sensing systems, power utilisation signals, and compressed air pressure and usage rates. Integration of these inputs provides users with greater visibility into equipment health, warnings of potential impending component failures and recommendations as to maintenance requirements.
This IIoT capability also provides the opportunity for OEMs to create new revenue streams by offering enhanced monitoring and support services to customers. Equipment leasing based on production can be quantified, and machine-as-a-service business models become more realistic.
Building IoT applications
Historically, it has been expensive and difficult to incorporate remote connectivity in new machines and equipment. PLCs, HMIs and networking technologies have developed significantly over the last decade, but despite these advances, early IIoT applications required significant coordination between operations technology (OT) and information technology (IT) data management at scale and analytics. Building a true IIoT application also required custom programming, understanding new technologies and overcoming issues, such as a lack of connectivity.
For end users, it is important that IoT technologies do not intrude on the existing PLC, HMI and network infrastructure with the potential to compromise operations. IIoT applications must complement existing systems, supporting efforts to maximise equipment availability, and improve production throughput and inventory management. With increased connectivity comes greater vulnerability to cyberthreats, requiring robust and effective measures be put in place to protect companies. Always on security capability, secure private networks, layered security and security policies related to personnel must all be carefully considered.
Reduced complexity and cost
Standards and modular hardware and software that take advantage of the latest IIoT technologies are now enabling simple, cost-effective and secure solutions. There are many ways to build-in IIoT capability based on edge computing and associated software, but solutions must be able to be standardised and implemented in brownfield or greenfield situations, regardless of the existing infrastructure.
Although standard PLCs can perform some IIoT data processing, a new generation of edge controllers add PC-style computing needed for IIoT applications. These edge controllers provide reliable deterministic control of industrial equipment, but also IIoT capabilities. As a result, they are now the preferred automation platform for OEMs looking to future-proof equipment, even if they are not ready to take advantage of the IIoT capabilities immediately. When OEMs are ready to implement IIoT applications, the necessary technology is already integrated within their machine design.
Industrial Ethernet protocols are widely adopted within manufacturing and the MQTT messaging protocol now offers a capable method of communicating factory data to the cloud or other IT applications. Replacing custom code are many powerful and well-understood applications, such as Node-RED and Grafana. These are able to seamlessly transmit factory data and visualise it as actionable information.
Advanced web-capable HMI software now moves beyond basic visualisation by incorporating various IIoT functions. Web visualisation is ideally suited to IIoT analytical applications, which usually require visualisation from anywhere. This next-generation software is also very scalable and provides a very consistent development experience for OEMs. This combined functionality and flexible deployment is particularly advantageous for OEMs, especially those building many types of equipment.
A range of installation options are possible, including directly on-board edge controllers, edge computing devices connected to local controllers and sensors, factory-floor or control room PCs, or servers as part of a larger automation system. Regardless of the deployment, IIoT solutions must integrate with cloud-accessible systems, especially if there is a desire to visualise and analyse data across a fleet of distributed equipment. Cloud communications empowers OEMs to support their customers worldwide, while also allowing them to gain access to information that helps them improve their own equipment design and reliability.
Edge control and web-based visualisation extends automation functionality by providing asset dashboards that describe the health of the machine, subsystems and components. This enables operations and maintenance personnel to be alerted of issues earlier, while historical data is available for evaluation to help identify root causes. Digital transformation is helping to collect the right data in support of improved troubleshooting, and predictive and usage-based maintenance strategies.
End users are no longer willing to accept a lack of access to data and visibility, especially with up-front costs now being low. They are very aware of the long-term benefits of operating more efficiently and therefore are now demanding IIoT-capable automation platforms as standard that help them achieve that.
Do you want to know more? Visit www.Emerson.com/industrial-automation-controls
Contact: Mayank Mehta | Regional Sales Leader MEA - This email address is being protected from spambots. You need JavaScript enabled to view it.
Emerson FZE Middle East & Africa | S210 Corner S219 | Building A South Zone 2 | Jebel Ali | Dubai | UAE