Qatar-based Jaidah Heavy Equipment division, a subsidiary of Jaidah Group, has announced a dealership agreement with equipment manufacturer Bobcat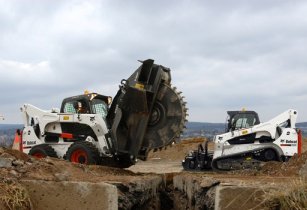 The Bobcat T870 Compact Tracked Loader. (Image source: Bobcat Company)
According to the agreement, Jaidah Group will be the sole dealer of Bobcat machines in Qatar, and will provide construction equipment and industrial products in Qatar.
Mohamed Jaidah, group executive director of Jaidah Group, said, ?Jaidah Group has a history of long-standing relationships with major international manufacturers, making us perfectly suited for satisfying the high demand for equipment related to Qatar?s construction boom. Our dealership agreement with Bobcat will reap rich returns for both parties and enhance our efforts to facilitate further growth in Qatar?s construction industry.?
Jaidah Heavy Equipment division?s product range includes heavy machinery and forklifts from Komatsu; cranes from Link-belt; UD trucks, Palfinger cranes, Altec cranes, compressed air and lightning solutions from Doosan Infracore (Ingersoll Rand); cleaning solutions from Tennant; Isuzu light and medium trucks; road machines from Sakai; material handling from Still; and Elba concrete pumps and compact machines from Bobcat, stated the company.
Gaby Rhayem, regional director of Middle East and Africa for Bobcat, said, ?Jaidah has emerged as Qatar?s leading provider of construction equipment and industrial products, making the group a perfect fit for us. We are delighted with this new dealership and are looking forward to having a positive impact on Qatar?s growth by delivering our high-quality products.?
Jaidah Equipment will also offer complete post-sales solutions including field service, after-sales maintenance contracts and maintain a stock of spare parts, added the company.