Kanoo Machinery, a provider of machinery brands for sales and after-sales in the region, conducted its annual Maintenance Solutions campaign for 2019 in Dubai to discuss and learn about the latest features and benefits of their maintenance agreements and extended warranty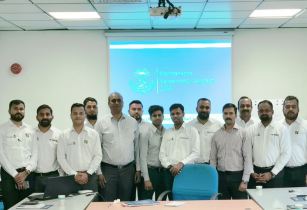 Kanoo Machinery?s parts and service support team at their annual Maintenance Solutions campaign for 2019, in Dubai. (Image source: Kanoo Machinery)
Speaking at the meeting attended by Kanoo Machinery?s parts and service support team, Mark Johnson, regional service and product manager - Middle East, said, ?Our goal as a regional leader in the machinery sector is to create and introduce real-time maintenance capabilities that would transform our customers? processes to thrive. Having the right assets where they?re needed increases productivity and optimises costs; while also giving a competitive edge to our business.?
The maintenance agreements help developing partnerships with our customers by providing better maintenance support and solutions, tailored for each customer?s requirements, he added.
Kanoo Machinery offers preventive maintenance agreements, repair and maintenance contract, extended warranty options, equipment inspections, refurbishment and overhaul options, spare parts supply agreements, as well as remote monitoring systems solutions.
The preventive maintenance agreements feature service schedule pre-planning, manufacturer-trained technicians, genuine parts and lubricants, on-site service capability, preventive repairs before failure, latest software upgrades, free pre-inspection for used machines, flexible package and payment options, multi-brand capacity, 24/7 support and response time commitment, and preferential discount on repairs.
Among the benefits of these agreements are increased uptime, fewer breakdowns, higher residual value and productivity, a lower total cost of ownership, improved machine performance, longer operating lifecycle, budgeted fixed maintenance costs, single maintenance provider, peace of mind and preferred customer status.
Kannan Chandrasekaran, country manager - UAE and Oman of Kanoo Machinery, said, ?These maintenance solutions were created to help us effectively manage everyday activities related to industrial machines to protect and maintain equipment from repair and replace, to predict and fix; hence creating value for our customers.?