MB Crusher ? together with its branch office MB America, Inc. ? had a huge showcase at CONEXPO-CON/AGG 2017 in Las Vegas, crushing and screening with an excavator and skid loader, thus turning every equipment into one-machine mobile plant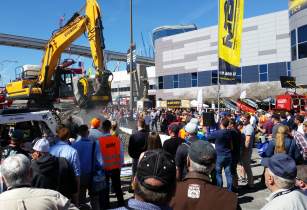 At its demo area in the Silver Lot, MB Crusher featured four machines. (Image source: MB Crusher)
In 2017 edition, at the company?s 4,000-sq.-ft demo area, MB Crusher demonstrated how quickly clients can have a mobile plant at their work site by switching between the crushing and screening attachments.
Since the last edition in 2014, MB Crusher has expanded its product line to include a new line of screening attachments designed for skid loaders, loaders and backhoes; 360? rotation grapples; and dual head rotary drum cutters.
At its demo area in the Silver Lot, MB Crusher featured four machines, crushing and screening concrete debris and granite rocks ? the BF120.4 crusher attachment and the MB-S18 screening attachment on an excavator, and the MB-L140 crusher attachment and MB-LS140 screening attachment on a skid loader.
In addition to the live demonstrations, MB Crusher had its drum cutter and grapple models on static display. Both product lines were introduced in late 2015 and early 2016.
MB Crusher?s attachments use the hydraulic system on excavators, skid loaders and backhoes, and allow contractors the flexibility to work in tight areas, difficult access locations, steep slopes and urban areas.
According to the company, contractors will be able to reuse materials immediately at the job site and provide a greener option in recycling waste materials. By reusing the materials, contractors and businesses can begin saving time and money in reducing waste and trucking costs.
Where every major construction industry has been represented amongst more than 2,500 exhibitors over 2,500,000 square feet and more than 150 education sessions including asphalt, aggregates, concrete, earthmoving, lifting, mining, utilities and more, CONEXPO-CON/AGG brought construction professionals from across all disciplines.