Three SDLG wheel loaders are working round-the-clock feeding, crushing and screening equipment in Qatar, without any significant downtime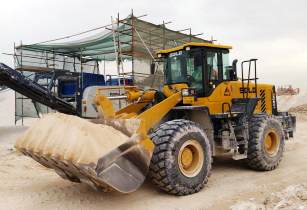 Three SDLG LG958L wheel loaders have racked up almost 2,000 operational hours in four months at a quarry in Qatar. (Image source: SDLG)
The site is owned by Doha-based contracting company Al Maram International, which uses crushing and screening equipment to reduce and sort limestone, primarily for asphalt applications for its customers.
?Our customers excavate large rocks from their quarries and then give them to us to be broken down into bespoke sizes,? said Aby Joyce, divisional head of the company?s crusher department. ?We are using the LG958Ls to feed the crushers and sub base mixing plant, and load the processed aggregate into waiting dump trucks and trailers.?
Two shifts: No sweat
Al Maram ordered the machines in October 2016 from regional dealer Arabian Agencies Company (ARACO), and within a month they had already been delivered and were in operation on site. The LG958Ls were the first SDLG machines Al Maram has purchased.
?For the past four months, the machines have been working two shifts a day, equalling between 16-18 hours in total,? said Joyce. ?During that time we have encountered very few technical issues.?
This is due to LG958L?s superb traction, excellent breakout force and improved reliability through the use of new high-performance materials, the development of computer-assisted design techniques, and intensive and systematic test programmes. All of these combine to increase the life of vital components and reduce operating costs.
?Even when we do encounter issues, we receive superb customer care support from SDLG,? Joyce added. ?If we have any issues, ARACO will arrange for a service technician to be on-site within two or three hours, at any time. This has enabled us to keep downtime to an absolute minimum. We will definitely be renewing our contract when it expires.?
SDLG?s fully supported service network was one of the primary reasons Al Maram chose to purchase machines from ARACO, as was its competitive pricing.
?Not only was the initial investment of the machines relatively low, but the operating costs are also very reasonable,? Joyce said. ?Our productivity is increasing while our costs are being kept down. Plus, improved ergonomics, increased comfort and excellent all-round visibility ensure safe and pleasant working conditions for our operators.?
Rising market
Al Maram International is well-known in Qatar for its advanced, effective and dependable technical and engineering services in the field of earthworks, civil construction, transportation and portable cabins. It has its sights on becoming the number one partner in industrial projects in the country.
?There is confidence that the country?s hosting of the 2022 FIFA World Cup will generate a building surge,? said Joyce. ?If we require more machines to meet future demand, we will of course look to SDLG. I have no doubt they will make a positive difference to our company in the future.?