Christina Trading SARL specialises in supplying heavy and light mining equipment for the benefit of mining companies, construction, transport, automatic lubrication systems and mining services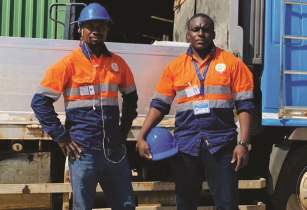 Christina Trading has entered into a partnership with perma‐tec GmbH & Co. KG. (Image source: Christina Trading)
It was one of the exhibitors at The Mining Show in Dubai, this year.
The company is engaged in the supply of indutrial equipment spare parts, logistics and civil engineering, engineering maintenance (maintenance and repairing of light and heavy equipment and reconditioning of mechanical equipment), connection of pipes in exhaust circuit (underground ,open pit mine and concentrator in discharging circuit) as well as fragmentation (drilling that involves determination of the drilling pattern, drilling plan development and hydraulic rig drilling). It is also involved in mining including the development of mining scheme, and excavation works related to the mining sector and others. It also supplies heavy and light mining equipment for the benefit of mining companies, construction, transport, procurement and mining services.
Christina Trading SARL has entered into a partnership with perma­tec GmbH & Co. KG products in DR Congo. perma­tec is the market leader in automatic single­point lubrication, offering lubrication solutions in more than 14 different industrial sectors.
In order to remain competitive, especially in the mining industry, companies need to increase production output while minimising operating costs in the long term. One of the most important components is preventive maintenance to extend equipment life and minimise downtime for maintenance, repair or equipment replacement. perma lubrication systems have been proven to help minimise bearing failures by up to 75% and reduce repair and maintenance costs by up to 25%.
Christina Trading provides superior services, equipment and maintenance in order to satisfy customers' needs. Through the years, they have been evolving and acquiring the necessary experience in order to always exceed customer expectations.