Global construction equipment brand Shandong Lingong Construction Machinery Co. Ltd. (SDLG) has launched variable horsepower versions of two of its biggest selling motor graders for Middle East and African markets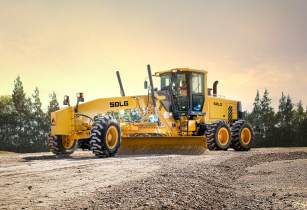 The standard versions of the G9190 & G9220 motor graders were launched in 2015. (Image source: SDLG)
The new G9190 & G9220 VHP (automatic variable horsepower) motor graders provide an automatic mode for transmission, allowing operators to shift seamlessly between manual to automatic transmission. This gives them greater control over the grading process while optimising fuel efficiency.
The finest grade
?The new VHP models give the operator greater control over the grading process, with the freedom to shift from manual to automatic transmission when they choose,? said Shahir El Essawy, SDLG?s business manager for Hub South.
?They are also fitted with a piston pump hydraulic system that always delivers the optimum oil flow to the hydraulic functions, regardless of engine speed. In this way, VHP allows the operator to concentrate on grading with greater precision for superior results, while the machine focuses on being more fuel-efficient.?
The standard versions of the G9190 & G9220 motor graders were launched in 2015 and have been well-received in the market. Just last year, SDLG sold 28 G9220s ? as well as 30 LG958L wheel loaders ? to a Saudi Arabian customer to facilitate a large-scale road maintenance initiative. The graders are well-balanced with good traction and excellent blade down force. The G9190 features a blade width of 13 feet with a blade pull of 9,990kg, while the G9220 has a blade width of 14 feet with a blade pull of 10,530kg.
The unique SDLG circle drive system comes with three support shoes and non-greasing slide bushings for better grading and easier maintenance. SDLG graders also feature an asymmetric drawbar ball stud that can be rotated 180? to keep the drawbar in horizontal level position ? vital when performing fine grading.
The cab is designed to offer exceptional all-round visibility; with easy-to-use industry-standard controls, comfortable seating and air conditioning as standard. What?s more, maintenance access is made easy with large side and rear doors. Greasing points are quickly accessible for efficient daily maintenance.
?We are always looking for new ways to help our customers get the most out of their equipment,? concluded El Essawy.
?By taking some of our most popular machines and improving fuel-efficiency and operator control, we are demonstrating our continued commitment to those customers.?