With the rise in infrastructure spend in the Middle East and Africa regions, SDLG has introduced the first asphalt compactor ? RD730 ? to meet construction demand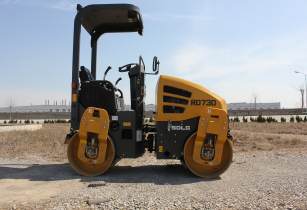 The SDLG RD730, a three-tonne capacity double drum asphalt compactor, is the flagship model of a new generation of hydraulic, double-drum vibratory rollers from SDLG. (Image source: SDLG)
The double drum asphalt compactor that offers efficient vibratory functionality, easy maintenance and exceptional operator comfort.
The introduction comes as infrastructure projects and investments increase in the region, particularly in Africa. In June, the World Bank called for an increase in infrastructure spending in Africa, and the continent?s dealings with both China and India have recently picked up. Kenya just unveiled its largest infrastructure project in 50 years ? a railway funded and built by the Chinese.
The growing infrastructure efforts are creating increased demand for equipment in the region that is both reliable and affordable. As the biggest construction equipment investors in the Middle East and Africa, Chinese companies are well-positioned to supply this equipment, provided it stands up to the regions? tough climates and is well-supported by a seasoned dealer network. One recent deal saw SDLG supply 58 units to a Saudi Arabian company for a nation-wide road maintenance project.
SDLG?s new compactor is meant to further satiate this demand. It?s a double drum model that places emphasis on durability and solid technology. The SDLG RD730, a three-tonne capacity double drum asphalt compactor, is the flagship model of a new generation of hydraulic, double-drum vibratory rollers from SDLG.
Shahir El Essawy, SDLG?s business director in the region, pointed to a high level of infrastructure work in Africa and the Middle East as reasons for why it?s crucial that SDLG offers a new double drum asphalt compactor.
?In Africa, wherever one travels, it seems they will find road-building crews these days,? he explained. ?And in the Middle East, recent projects, such as the opening of a 62-km highway from Abu Dhabi to Dubai, show that demand is increasing for reliable construction equipment that can maintain uptime on the job site and return on investment for their owners. The SDLG RD730 is ideal for these types of projects, as it provides a great value proposition, houses reliable technology and is supported by a global leader in construction equipment.?
The RD730 features a Kubota D1803-M-E3B engine that boasts a net power of 24.8kW at 2,400 rpm, enabling it to travel up to speeds of 10.5 km/h. Its drive system uses proven hydraulic components that provide both even and high tractive force across the front and rear drives. The operator can also easily change the vibration frequency (from 55Hz to 67Hz) to match the performance with production requirements.
It also offers great all-round visibility, thanks to the machine?s minimalistic cabin design and the position of the operator seat. The control handles are intuitive and simple to use, making operation and training easy.
And with its large 220-litre water tank, operators spend less time refilling, and they can easily adjust the time intervals between water sprays to the drums.
The release of the RD730 comes on the heels of the several other product launches from SDLG in the Middle East and African regions in 2017, including the G9190 and G9220 VHP motor graders in May, and the F-series wheel loaders in April.
?We hope the recent influx of new machines to the region demonstrates our unwavering commitment to our Middle Eastern and African customers,? said El Essawy. ?Our focus will always be on providing reliable construction machinery at affordable prices, backed up by first-rate parts availability from our extensive dealership network.?