Chicago Pneumatic has sold 100 CPLT V15 metal halide tough and efficient light towers in Kuwait to its authorised distributor General Transportation & Equipment Company (GTE)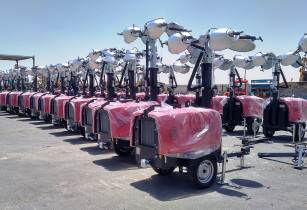 CPLT V15 metal halide model offers a combination of durability, easy maintenance and outstanding value for money. This is crucial for projects requiring a large fleet of light towers. (Image source: Chicago Pneumatic)
This order is the largest Chicago Pneumatic has received to date for its CPLT V15 light towers in the Middle East.
Amjad Fallatah, regional product manager for Chicago Pneumatic Construction Equipment in the Middle East, said, ?We would like to thank GTE for further establishing our brand in Kuwait. We?re delighted to have them as a partner because they?re not only an ambitious company, but also closely share our values and objectives when it comes to delivering high-quality products and customer service.?
The light towers will provide crucial illumination for an oil and gas construction project located in a remote area of Kuwait?s desert, according to the company.
GTE received the order after taking part in a tender process in which three other suppliers were involved.
Ejazul Hassan, equipment sales manager for GTE, explained, ?We put forward the CPLT V15 because it is an ideal choice for projects requiring a large fleet of light towers. During the live demonstration, our client quickly realised the metal halide option would provide them with a combination of durability, easy maintenance and outstanding value for money.?
?It?s compact and lightweight design makes it really easy to move around. It?s also very safe to transport between different job sites, as the light tower can be moved with the mast in a vertical position,? Hassan added.
For added protection, the CPLT V15 comes equipped with four heavy-duty stabilisers and a level indicator.
The CLPT V15 features a tough polyethylene canopy that protects vital internal components. This ensures the light tower operates at peak performance and has an optimised lifespan while working in harsh conditions. Not only is the canopy durable, it also features wide wing doors to allow easy maintenance access to the machine, including service components and drains. Additionally, the CLPT V15 has an environmentally friendly frame that prevents any excess fluid escaping.
A Kubota EPA Tier 4 engine powers the CPLT V15. To ensure both operational and fuel efficiency, the units are equipped with a 28-gallon fuel tank. In practical terms, this allows the light towers to operate for many days without the need to refuel, helping to maximise productivity and illumination time. In addition, Chicago Pneumatic has adapted the 100 units of this order with an Earth-leakage circuit breaker (ELCB) and a fire extinguisher to meet the client?s specific needs.