TIL Limited, providers of a wide range of infrastructure equipment throughout the globe, has showcased its material handling and road building solutions at Excon 2017, South Asia?s largest construction equipment exhibition, that was held in Bengaluru, India, from 12-16 December 2017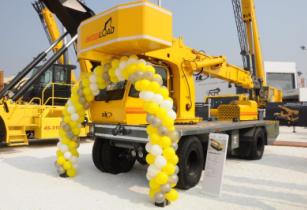 MOBILOAD 315 from TIL?s pick-n-carry crane segment. (Image source: TIL)
The company has introduced its MOBILOAD 315, one of the latest from TIL?s pick-n-carry crane segment. The MOBILOAD 315 has a maximum capacity of 15 MT at 2.5m radius over front for pick-n-carry operations and eight MT at 2.5m radius for 360? slew on-tyre duties.
?The Mobiload 315 features a four section boom with extended length reaching up to 17m. The first three sections are fully powered and fully synchronised and the fourth section is power-positioned. There is an optional five-metre jib extension, allowing for a total boom tip height of 24m,? said the company.
According to TIL, the machine features an electronic load moment indicator with an aim to ensure safe operations.
Speaking on the occasion, Pinaki Niyogy, vice-president and chief technology officer at TIL, said that MOBILOAD focuses on epitomising productivity, technology and performance in the 15-tonne mobile crane segment.?
TIL also launched RT 750 which has a maximum capacity of 50 MT at 2.5m radius with 360? slew on outriggers and 12 MT with 360? slew on tyres. The carrier has 4x4 wheel drive and four wheel steer.
Another product introduced by TIL was the Hyster-TIL ReachStacker for everyday container handling applications, aiming to meet the demands of ports and other tough container handling applications in growing markets.
?The new Hyster TIL RS45 aims to set a standard in low cost of ownership. These trucks offer the same quality components, durability and toughness as any Hyster Big Truck, alongside intelligent Hyster design to deliver lower fuel consumption and longer tyre life,? said Rajesh Wazarkar, managing director of Hyster-Yale Lift Trucks India Pvt Ltd.
Besides these, TIL also displayed two hydraulic truck cranes and a range of crushing and screening solutions during the Excon exhibition.