Prepare ferro-alloys samples in a safe and user-friendly pilot scale laboratory installation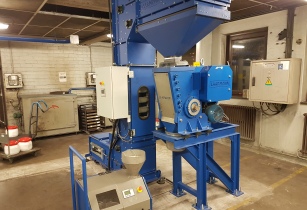 .
The determination of the quality from the purchased or produced goods is depending on the way a representative sample is taken and the preparation of this sample. It was very common to outsource these activities to external labs since the previous systems are too expensive or difficult to use.
The installation of LAARMANN Group BV has simplified the size reduction process for companies involved with Ferro-Alloys to a mere push of a button. Since there is no more need for the operator to lift any heavy materials or perform multiple actions the process is more efficient, resulting in more samples and an overall higher quality.
The operator puts 25 kilograms of material in the inlet funnel and starts the process at the central control box. A vibratory feeder underneath the inlet funnel evenly feeds the bucket elevator. The bucket elevator lifts the material and feeds the jaw crusher (type LMFC250) which reduces the material directly to < 2mm.
The grit material goes, using a flexible connection, to a rotary sample divider which divides the sample in ten equal parts of 2,5 kilograms (sub samples).
The alloys have a density between 3 and 8 kg/litre, giving sample volume of 500 to 800 ml.
This sample will be pulverised in a ring mill (type LM2000) to reach the end finesses of 125?m.
The external lab needs ?15 grams of this product to make it into a tablet that can be analysed with an XRF-machine.
LAARMANN Group BV realises unique total solutions like these for sampling and sample preparation. Instead of limiting themselves to providing laboratory equipment, the company offers a complete assessment of the sampling processes for a client. Specialist investigated and take under review the current technics and procedures. This way they map the entire process of the sample in one day, starting with the material in bulk which arrives by ship, train or truck up to final analyse of the sample. Only based on the right insight it is possible to advise companies on how to prepare and take a representative sample. LAARMANN Group B.V. can be contacted using This email address is being protected from spambots. You need JavaScript enabled to view it.
Please read the full article here: www.bulkinside.com/saving-money-with-your-own-sample-preparation