XCMG, a Chinese construction manufacturer, has introduced the new Middle East series, including cranes, truck cranes, crawler cranes, tower cranes and aerial work platforms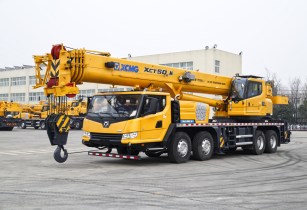 XCMG, which entered the Oman market in 2005, released new machinery to suit the region's dry and sandy climate. (Image source: XCMG)
XCMG has presented the new products at a release ceremony in Muscat, Oman. The event was attended by more than 200 customers and guests.
"The Middle East has always been a key market for XCMG internationally, and XCMG hopes to contribute to the Sino-Oman relationship through promoting China's leading manufacturing capabilities, technologies and standards," said Liu Quan, deputy general manager of XCMG import and export.
Muhammad, who purchased the 85-ton truck crane at the event said, "The outstanding performance of XCMG's products has brought success to our business. And I think the new desert series will bring us the same success in the future."