Dubai's Roads and Transport Authority (RTA) has outlined plans to build 17 more pedestrian bridges between 2013 and 2016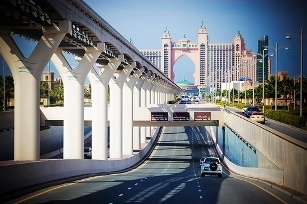 Currently there are 87 pedestrian bridges in Dubai but by 2016 this figure will stand at 104. (Image source: WomEOS/Flickr)
Currently there are 87 pedestrian bridges in Dubai, including 34 metro footbridges, but by 2016 this figure will stand at 104.
An initial construction phase for nine of the bridges will be expected to cost US$12.3mn and be completed by the end of 2014.
RTA chairman Mattar Al Tayer said, ?The construction of pedestrian bridges is a testament to RTA?s endeavours to provide safe pedestrian crossing means.?
The locations of the new bridges have been selected according to a host of parameters, including pedestrian density, traffic lights positioning and frequency of serious recorded accidents.
Key locations for the initial phase bridges will include Bani Yas Road near Dubai Municipality, Damascus Road near the public library, Al Khail Road near Al Qouz Industrial Area and Emirates Towers.
The RTA chairman said that the second phase will incorporate eight bridges including two at Al Awir Road and one bridge at each of Amman, Meydan, Damascus, Al Khawaneej, Al Quds and Doha Roads. He added, ?In the near future, the RTA will construct a footbridge on Al Khail Road 1, opposite the Dubai World Trade Centre, spanning 92 metres and fitted with twin lifts on each side to handle visitors.?