The all-new The new Ford Trucks tractor F-MAX, which was launched at IAA Commercial Vehicles 2018 in Hanover, Germany, has won the ?2019 International Truck of the Year? award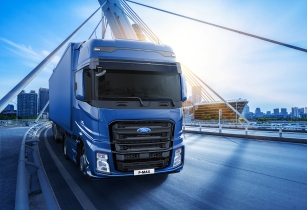 F MAX 2. (Image source: Ford Trucks)
The award of the heavy commercial vehicles industry was presented by Gianenrico Griffini, chairman of International Truck of the Year (IToY) jury, to Haydar Yenig?n, Ford Otosan General Manager at the Ford Trucks stand at IAA Commercial Vehicles 2018.
Members of the International Truck of the Year (IToY) jury, which consists of leading trade journalists from 23 European countries, carried out a strict evaluation process. After being put through its paces in the road tests in different categories and static assessments, the F-MAX underwent a rigorous assessment covering key criteria such as technological innovation, comfort, safety, drivability, fuel economy, environmental footprint and total cost of ownership (TCO). The F-Max scored the highest number of points and winning the ?2019 International Truck of the Year? award.
Ford Otosan general manager Haydar Yenig?n said that the award ?is a very important step toward Ford Trucks? future?, adding that the F-MAX, with its 2.5-m full-width cab and 500 PS engine power, will become a major player in the international transport industry.
The new F-MAX was designed and tested by 500 Ford Otosan engineers over a five-year period. Tests were carried out in 11 countries using 233 prototype units. This involved 15,500 hours of lab testing and five million kilometers of road testing.
?Ford Trucks has a very challenging promises. Saying ?sharing the load? as a brand promise, we commit our self to understand customers? needs and share all kind of load that they might have,? added CEO Yenig?n. ?We developed our new tractor with Ford?s principles of comfort, power, efficiency and technology at its heart. To ensure that the design guarantees the most, in terms of efficiency and practicality, we examined every part and every detail over and over again.?
Cost of ownership is a key factor for the new F-MAX. F-MAX covers the three areas of cost of ownership ? production and product development, combined with increasing vertical integration, give Ford Trucks a competitive edge in terms of its cost base.
The new F-MAX offers a high performance engine with 500PS, 2500Nm and 400kW braking power. Superior aerodynamics, powertrain calibration and technical features also ensure outstanding performance in terms of fuel consumption with a six per cent margin of improvement over previous models. Technical features include E-APU technology, eco-roll function, predictive cruise control (Max Cruise). Up to seven per cent reduced maintenance costs and long service intervals reduce the total cost of ownership. F-MAX?s Ecotorq engine offers maximum performance and minimum fuel consumption under any road conditions.
12-speed ZF automated transmission and different drive modes such as Eco-Mode and Power-Mode help optimise fuel consumption. The new F-MAX is also empowered by a variable-geometry turbocharger, a water pump and compressor with multiple working speeds, 400kW engine brake power which achieves 1,000kW total braking power with the optional intarder.
Ford Trucks also offers a revolutionary technology ?ConnecTruck? with the new F-MAX with many benefits. These include remote monitoring of the vehicle using remote diagnostic and over-the-air software. The special topographic map means that F-MAX is able to analyze road conditions, allowing the vehicle to drive at optimum speeds, thereby reducing fuel consumption by up to four per cent. FMS Integration allows the ConnecTruck Module and Ford Trucks cloud to act as a data gateway for third-party fleet management systems to access selected vehicle data.