Parsons Corporation has announced that it has won a consultancy services contract for the improvement of the Shindagha Corridor in Dubai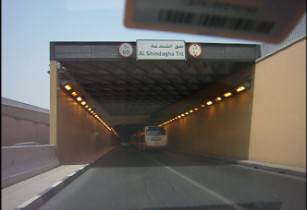 The tunnel, built 40 years ago, currently only has two lanes for traffic in each direction. (Image source: Michael C57/Wikimedia Commons)
The US-based engineering firm was awarded the contract by Dubai Roads and Transport Authority. Under terms of the contract, Parsons? services will include the preliminary concept study, preliminary design, final design, tender documentation and construction supervision of the project.
The Shindagha Corridor improvement project consists of a new bridge that will connect Bur Dubai to Deira, meant to serve as a gateway to Dubai; an evaluation of an existing tunnel under the waterway; nearly 10 km of a new 12-lane expressway; multiple major interchanges; and various local roadway improvements throughout the historic district of Dubai.
Gary Adams, president for the Middle East and Africa regions at Parsons, said about the project, ?Parsons looks forward to working on the Shindagha Corridor. It is Dubai?s largest new road and bridge project, and the historical richness of the area only adds to its significance for our customer. The project is located in the heart of Dubai, a location that stands as a vibrant testimonial of Dubai?s development into a global commercial hub.?
The existing Shindagha Tunnel is the one of several crossings over the Creek, and closest to the point at which the waterway opens into the Arabian Gulf. It was built in 1975 and is the oldest road tunnel in Dubai. It has only two lanes for traffic in each direction and a third lane that was created for pedestrians. Approximately 38mn vehicles pass through it every year.
READ MORE?
Parsons wins construction contract for Expo 2020 site