Scania has announced the launch of its new and complete premium truck range in Saudi Arabia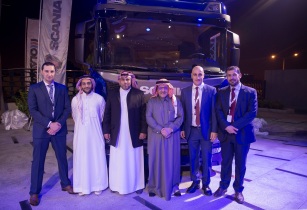 Scania and GCC Olayan launch new truck generation in Saudi Arabia. (Image source: Scania)
Scania?s new truck generation is extending its offering and can now, with its unique modular system, supply more performance steps, connectivity, and a comprehensive palette of productivity-enhancing services as well as customised transportation solutions. Now Scania?s customers will be able to carry out their work in the most sustainable and profitable way, regardless of industry and area of application.
With the complete new truck range, which includes the Scania XT and heavy tipper vehicles, Scania is expecting to set a new standard for what is premium in the transport industry.
Scania?s heavy tipper is a robust partner developed for optimised performance in the toughest conditions, at a significantly lower cost per tonne and an excellent equipment-to-payload ratio, at a 25 per cent payload increase. The Scania XT offers a solid design that caters to customers who carry out the most challenging tasks with the toughest demands in terms of uptime, productivity and robustness, with enhanced features to deal with the various challenges the vehicles face in their daily assignments.
Loaded with enhancements, the new truck range further improves Scania?s already strong fuel performance due to factors such as improved powertrains and better aerodynamics. Another notable feature is the availability and offering of 24 different cab models. With driver?s safety at the forefront of Scania?s goals, the new truck range also provides the world?s first rollover side curtain airbag.
Speaking at the launch, ?zcan Barmoro, managing director of Scania Middle East, said, ?Scania?s new truck generation aims to drive the evolution of the transportation industry in line with Saudi Arabia?s strategy to focus on safety, effectiveness, efficiency and technology. Inspired by our core value of putting customers? first, global trends and challenges, this generation of trucks is designed to better meet the needs of our customers and the world we live in. It has efficiency in both fuel economy and performance incorporated into a design inspired by the Scania heritage. Our new truck range will contribute to the ambitions of Saudi Arabia to shape the future of its transport industry, powered by innovation.?
Ibrahim Abudayeh, regional general manager of GCC Olayan, exclusive distributor of Scania in the kingdom since 1981, added, ?GCC Olayan prioritises the delivery of complete effective solutions to our partners in Saudi Arabia. Having been the exclusive dealer for Scania for over 38 years, we welcome the new developments demonstrated by the new truck generation, which will transform the logistics, transport, construction, and mining industries in line with Vision 2030.?