German tyre and technology company Continental has opened its first office in Jeddah, Saudi Arabia, aiming to strengthen its foothold in the region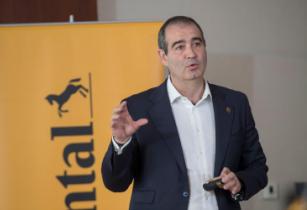 Jon Ander Garcia is the regional manager at Continental for Africa and the Middle East. (Image source: Continental)
The new joint venture project, in partnership with Continental?s previous distributor in Saudi Arabia, Almutlak Trade & Industries, is expected to support the growing demand for Continental?s products and services in the kingdom.
Continental has also inaugurated its first warehouse facility in Jebel Ali, Dubai. The new warehouse is set to act as a hub connecting plants in Europe, North America and South America, with the brand?s distribution partners in the Middle East.
In addition, the company has also launched a new digital tyre monitoring platform, ContiConnect. Designed especially for commercial vehicles, the new platform aims to help fleets to maximise efficiency and send alerts if tyre pressure deviates from the defined value.
The introduction of ContiConnect follows the arrival in the Middle East earlier last year of ContiPressureCheck, a first-of-its-kind monitoring system for buses and trucks that continuously monitors tyre pressure and temperature via sensors placed inside the tyre.
Continental noted that it aims to have a positive impact on the community and the company seeks innovative ways to improve the well-being of the society.