MasterCard have announced the launch of a new mobile banking initiative in Egypt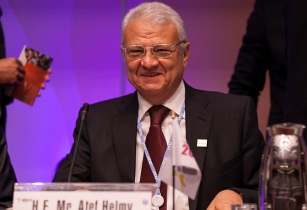 Egyptian communications minister, Atef Helmy, said the scheme would provide millions of citizens with a safe method of receiving payments. (Image source: ITU Pictures/ Flickr)
The scheme, revealed by company CEO Ajay Banga at the Mobile World Congress in Barcelona this month, will reach 54mn people across the most populous nation in the Middle East.
Banga spoke of the need for interoperability and public-private partnerships to remedy the fact that 2.5bn people do not own a bank account and 85 per cent of the worlds retail transactions are still conducted in cash.
The global payments technology firm will work with the Egyptian government to create a digital ID programme, linking citizens? ID cards to the existing mobile money platform for the first time, allowing them to receive government salaries, pensions and subsidies directly into their mobile payment record.
Minister of communications and information technology, Atef Helmy, said, ?With Egypt?s mobile penetration rate at more than 100 per cent and an existing interoperable national mobile money platform, this collaboration with MasterCard will provide millions of Egyptians with access to an innovative, safe and simple way to conduct financial transactions using their national ID card.?
To find out more about next generation banking for the digital age, click here to register your interest in attending the upcoming New Age Banking event, which will take place in Abu Dhabi on 1 April 2015.