Abu Dhabi Police General Headquarters (GHQ) has signed multiple Memorandum of Understandings (MoUs) with specialised information management companies as part of its plan to develop a state-of-the-art IT infrastructure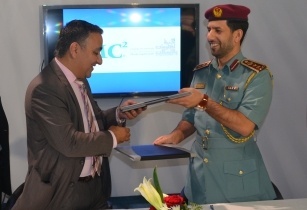 Habib Mahakian, EMC regional general manager for Gulf and Pakistan, finalises MoU with Abu Dhabi Police head of systems development, Colonel Barakat Al Kindy. (Image source: EMC)
Representing the UAE Ministry of Interior (MoI), the Abu Dhabi GHQ has entered into several cooperation agreements with companies such as computer technology corporation Oracle and information management company EMC.
Colonel Anwar Al Mulla, head of Abu Dhabi Police GHQ ICT department, said, ?The EMC Corporation?s distinguished technologies will enable the Abu Dhabi police to create an open, efficient and globally integrated work environment.?
The MoU with EMC will provide the Abu Dhabi police with content-addressable storage and centralised data archiving platforms, which it hopes will ultimately assist in crime analysis, public safety, protection, police investigation, and crisis and disaster management. Collaborating with Oracle will allow the police force to benefit from database solutions and licenses to develop policing systems, such as the Unified Criminal Justice System and the Human Resources Management System.
MoUs were also signed with GBM, with the intention to provide the emirate?s police with enhanced IT infrastructure solutions, and Atlas Communications Company, which the Abu Dhabi Police GHQ hope will boost the headquarters wireless network. Other MoUs have also been signed with Toshiba Corporation and IBM.
The deals form part of the MoI?s aim to enhance the security and safety of its IT infrastructure so that it can support the expected data growth and create an intelligence-led police force.
Directed by Lt. General H.H Sheikh Saif bin Zayed Al Nahyan, Deputy Prime Minister, Minister of Interior and Commander of Abu Dhabi Police, the headquarters has already initiated a number of information management projects and invested in e-services, such as Geographic Information System (GIS), a system that captures, stores and analyses geographical data.