Canon Middle East has announced a new partnership with Ezah Company for Technologies Ltd to provide Internet Protocol (IP) security cameras in Saudi Arabia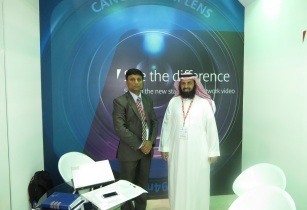 Mohammed Zubair, business development manager of Canon Middle East with Nasser Alajmi, CEO of Ezah Company. (Image source: Canon Middle East)
The two companies reached an agreement after addressing the growing need for security solutions across banking, hospitality and government sectors in the kingdom.
According to the IMS research report titled Middle East Market for CCTV and Video Surveillance Equipment, the need for tighter security solutions is expected to grow 25 per cent every year till 2016.
Canon's full high-definition IP Cameras are ONVIF (open network video interface forum) compliant. This means the cameras can be operated by different network video products and allows flexibility between users. The cameras range from S-series to H-series, which are capable of low-light shooting, smart-shade control and wide-angle view.
Anurag Agrawal, managing director of Canon Middle East, said, "Saudi Arabia is a market of strategic importance for Canon Middle East. Ezah Company for Technologies Ltd. has varied market expertise and our technology profile offers significant business potential, which will allow us to be at the forefront of security solutions."
A home-grown organisation, Ezah Company for Technologies Ltd. has more than 20 years of experience in the military and government markets. Specialities include advanced electronic and electro-mechanical systems used for military activities, communications and signal corps sectors. The partnership with Canon Middle East will extend the Canon portfolio of IP security cameras and include the PTZ Minidome VB-S30D, PT Minidome VB-S31D, Fixed Minidome VB-S800D and Fixed Box VB-S900F.
"This partnership is also in line with our vision for 2014 to drive growth through diversification. Developing IP security cameras, especially the new S-series, is a new direction for Canon that will provide further value to our company and customers," added Agrawal.