Bentley Systems, the infrastructure engineering software company, has acquired E7, a Brisbane, Australia-based specialist in field-based construction delivery software for heavy civil construction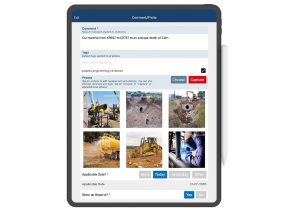 Foremen are connected in the field, providing updates across the project, including daily diaries, progress, and resource cost capture to provide clear line of sight for project leaders to make data-driven decisions. (Image source: Business Wire)
The acquisition adds capabilities to Bentley?s comprehensive project delivery solution that helps civil contractors meet the schedule and budget requirements of infrastructure investment programmes.
E7 helps organisations achieve greater resource utilisation and field productivity through mobile and web interfaces that transform manual, field-based tasks into digital workflows. It includes capabilities specifically designed for heavy civil construction, including daily diaries, unplanned event tracking, timesheets, dockets, daily costs, and quantity progress measurement, which enable supervisors to produce daily progress measurement reports simply and quickly.
E7?s flexible daily cost capture methods will extend Bentley?s SYNCHRO construction modelling, project management and reporting, task management, voice-based field data capture, and automation capabilities to create a comprehensive 4D construction digital twin solution. The combined capabilities enable heavy civil construction contractors to effectively optimise the utilisation of field resources to stay on schedule and on budget.
?Visibility into field resource utilisation is key to project profitability,? said Dustin Parkman, vice-president, project delivery, Bentley Systems. ?The addition of E7 to Bentley?s SYNCHRO digital construction delivery solution complements our industry-leading 4D construction modelling with field-based resource management tools that are essential for heavy civil contractors. This new combination makes possible a truly comprehensive digital construction delivery solution for heavy civil contractors everywhere.?
Hugh Hofmeister, E7?s CEO, and Adrian Smith, E7?s chief technology officer, join Bentley as director of product management and director of product development, respectively.