Enova, an energy and facilities management specialist, has enhanced its Enova by Veolia smartphone app with the Internet-of-Things (IoT) technology, that allows users to monitor indoor temperature, relative humidity and air quality parameters and carbon dioxide levels in real time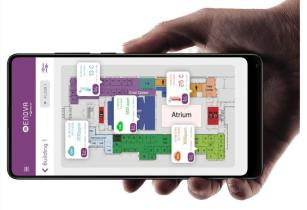 The Enova Operations team utilises the app daily to optimise and maintain IEQ for all shopping mall occupants and visitors. (Image source: Enova)
The Enova Operations team, which utilises the app daily to optimise and maintain IEQ for all shopping mall occupants and visitors, can now respond promptly and efficiently to any changes within the local environment and ensure continued comfort for all.
This is the first time that an advanced technology solution like this has been rolled out across Majid Al Futtaim Shopping Malls and the Sultanate of Oman (Mall of the Emirates and City Centres Mirdif, Deira, Ajman, Sharjah, Fujairah, and Muscat).
It builds on the success of the existing smartphone app, launched in 2017, which provided users with access to live data from anywhere in the world, at any time.
Since 2017, Enova has worked closely with the mall management to achieve energy and water savings in the framework of an Energy Performance Contract (EPC) that found overall efficiencies of 28.3 GWh in energy savings and 150,000 m? in water savings, which is enough to power 3.1 billion LED lamps and fill 60 Olympic swimming pools respectively.
For both the Energy Performance Contract and the IEQ app capabilities, real-time insights are achieved through Hubgrade 4.0, Enova?s proprietary smart monitoring and reporting centre.
Hubgrade 4.0 consolidates data collected from smart sensors deployed across a site and then relays them to the app to display environmental changes on a virtual floorplan.
?We have been noticing an increase in the demand for Indoor Air Quality (IAQ) solutions post-COVID-19 and are well prepared to cater to them,? said Renaud Capris, CEO, Enova. ?Middle East organisations need to have full insights on the quality of their indoor facilities, whether malls, office buildings, or residential towers. Working with Majid Al Futtaim Shopping Malls, we have created an innovative solution that will enable operators to better optimise the indoor environment of their buildings, all the while maximising the level of comfort for the building occupants and visitors,? he added.
Renaud Capris further stated, ?The new solution is a clear example of our guiding ethos, ?Sustaining Your Growth,? to assist customers in managing all of their energy and facilities management needs. Organisations can focus on their daily business activities without having to worry about their facilities? operations."
The Enova by Veolia smartphone app?s thresholds have been designed to follow green building regulations and specifications based on ASHRAE Standards. The smartphone app also complies with WELL & LEED guidelines in terms of hygrometric conditions and indoor air quality indicators.