The market for ICT solutions and products in the Middle East is booming, as was clearly demonstrated at October?s GITEX Technology Week, which returned to Dubai for its 34th edition
Growth within the Middle East?s ICT sector has been outpacing the global industry average, with the regional ICT market set to jump from a projected US$15bn in 2014 to US$20bn in 2020, according to market intelligence firm IDC.
IDC has named Saudi Arabia as the largest ICT market in the Middle East, accounting for more than US$7bn in predicted spending in 2014. The Kingdom?s public sector has allocated US$1.63bn to improve and modernise government services, education, healthcare and transportation, with ICT set to play a pivotal role in the transformation.
Market research company Gartner has anticipated a growth rate of eight per cent in regional ICT spending in 2014, which represents a big difference in global growth within the sector, which currently stands at just 2.1 per cent.
Elsewhere, the global Big Data market has been demonstrating its growth, as the sector gears up for predicted growth from US$3.2bn in 2013 to US $15.1bn by 2020, while the GCC cloud computing market looks set to post seven-fold growth and expand at a CAGR of 32.8 per cent to reach US$668.5m by 2020.
Regionally, the ICT industry is being boosted by infrastructure spending from the government sector, which makes up the largest and fastest-growing vertical market, and these positive trends helped spur global demand at GITEX Technology Week 2014, held at Dubai World Trade Centre (DWTC) in October. The largest ICT event in the Middle East, Africa and South Asia (MEASA) region attracted 100,000 visitors from 150 countries and hosted more than 3,700 exhibitors from more than 60 countries.
Building Smart Cities
Dubai?s Department of Tourism and Commerce Marketing (DTCM) director general and DWTC CEO Helal Almarri remarked, ?Under the visionary guidance of His Highness Sheikh Mohammed bin Rashid Al Maktoum, UAE Vice President, Prime Minister and Ruler of Dubai, Dubai is set to transform into a ?Smart City? by harnessing technology to create better living conditions and new forms of developments for all people in Dubai and the UAE.
?GITEX Technology Week was privileged to contribute to this vision by facilitating the public-private partnership in knowledge exchange and sharing of achievements between the world?s leaders in smart innovations and local organisations leading the smart transformation of Dubai.?
Dubai?s Smart City roll-out was highlighted at GITEX 2015, with government-led updates on the progress of the Dubai Smart City initiative and a pioneering app-based Smart Journey Tour among the highlights on show.
Marwan Bin Haider, executive director of planning and development at Dubai Smart Government, said, ?The region?s Smart City developments demonstrate how GCC governments are increasingly innovating delivery of services to people and businesses.?
Meanwhile, Nawar Atassi, head of new account management for the GCC and Pakistan at Ericsson, remarked, ?A new level of mobility will enable the region?s Smart Cities, which is at the heart of our Networked Society vision, to positively impact daily lives at home, at work and in cities. People will be able to live more freely while enjoying smarter features everywhere in more sustainable cities ? and Dubai is serving as a global benchmark in Smart City leadership.?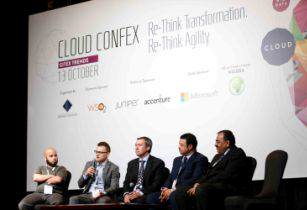 Internet trends
Telecom operator Etisalat and broadband network solution provider Sandvine used a joint platform at GITEX to highlight the latest Internet usage trends across the Middle East. The two companies demonstrated the unique nature of Middle Eastern Internet usage patterns, sharing knowledge and experience with operators in the region on how they could use business intelligence tools to increase revenue and reduce network costs.
Among the unique traits found on select Middle Eastern networks was Instagram being named the leading generator of social networking traffic, consuming almost twice the bandwidth of Facebook on some mobile networks, while Snapchat and WhatsApp were named as the two leading third-party messaging applications. Combined, both messaging platforms account for as much as 10 per cent of total mobile traffic, leading Chris Colman, senior vice-president for EMEA Operations at Sandvine, to describe subscribers in the Middle East as ?among the most enthusiastic consumers of social networking and messaging applications in the world?.
In the enterprise software arena, Sage Middle East, a provider of business management software to small- and medium-sized organisations, announced a partnership with Saudi Arabian information technology provider GT Tech. The alliance will enable GT Tech to utilise Sage?s Sage ERP X3 enterprise resource planning solution. Sage also launched its new version 7 of Sage ERP X3 at GITEX 2014. Among the roll call of names that other regional private and public sector entities signed major multimillion dollar deals with at the show were Ericsson, Huawei, Cisco, Microsoft, Etisalat and du.
Sam Al Kharrat, president of SAP MENA, told Gulf News, ?At the event, we demonstrated to businesses how our industry-leading cloud-based SAP Hana platform can help businesses run simple and enhance ROI with Big Data, and how organisations? HR departments can best train the next generation workforce on cloud solutions.
?SAP saw strong success at GITEX 2014, as we are committed to driving the region?s growth, and especially Dubai Smart City?s technology-based transformation,? he added.
GITEX also drew attention to a number of new trends within the market, with the event providing further evidence that the development of the Middle East is strongly connected to ICT optimisation.
Infrastructure developments in the region have caused spending on audiovisual solutions and major vendors and products to increase, while services and products on show at GITEX ranged from the latest in intelligent interactive LED displays and high-definition slim bezel signage monitors, to up-to-the-minute data centre innovations and enterprise solution models.