The Misk Foundation has launched a pilot technology skills training programme for Saudi youth in partnership with education company General Assembly, which saw majority participation from women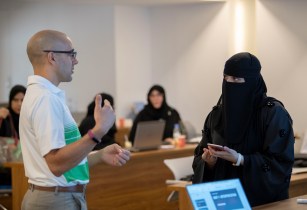 60 per cent of the enrollees in the pilot phase of the programme were women. (Image source: Misk Foundation)
The non-profit selected 30 youth from 800 applicants, of which 18 were women and 12 were men.
The organisation, founded by crown prince Mohammed bin Salman aims to train youth for careers in web development, data science, design, digital marketing, and product management, among other disciplines.
Saudi Arabia, under Mohammed bin Salman, has seen a slew of reforms aimed at diversifying the economy away from oil revenues and creating jobs in the private sector.
Saudi Arabia?s economy came under strain when oil prices fell to multi-year lows, prompting the government to cut spending, introduce taxes and consider privatising state services.
The country is looking to publicly list a part of its state-owned oil giant Saudi Aramco.
?H.R.H. Crown Prince Mohammed bin Salman?s recent visit to London and other cities focused on the importance of international collaboration and our partnership with General Assembly is showing, in a practical way, the impact this has on young Saudis and our rapidly transforming economy,? said Deemah AlYahya, CEO of Misk Innovation.
The training programme, focussed on the practical application of skills, will be run by General Assembly instructors at the Misk headquarters in Riyadh.
?General Assembly is excited to be part of the radical transformation happening in the region, and to support the tremendous men and women who are looking to acquire new skills and transform their careers. The massive demand for this pilot program highlights the excitement and enthusiasm among young people in Saudi Arabia to become leaders in the digital economy. We are excited to empower the students in this pilot cohort and continue to partner with Misk to build the next generation of leaders in the Middle East,? said Jake Schwartz, CEO of General Assembly.