With Middle East?s Internet of Things (IoT) market outpacing the global average, SAP has now released SAP Business Suite on SAP HANA (SAP S/4 HANA), which connects people, devices and business networks in real time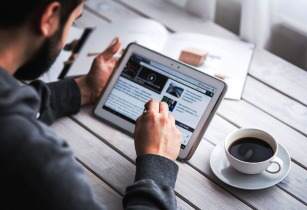 The advancing inter-connected IoT era will connect at least 50bn devices and generate US$14.4 trillion in value by 2020. (Image source: Karolina/Pixabay)
According to a study by Deloitte, the region?s IoT hardware and services revenues is predicted to reach nearly US$2bn in 2015.
?The IoT will be the Middle East?s biggest game-changer, and enterprises need to develop comprehensive strategies to re-imagine their businesses in the digital economy,? said Frank Forndron, SAP head of customer office, SAP MENA, and head of quality management for SAP MENA and EMEA emerging markets.
?We are seeing strong demand for our SAP S4/HANA real-time in-memory business suite, which reduces complexity and cost, and delivers customer value and boosts the region?s economy,? he added.
In this emerging digital economy, as more objects and devices are connected together, they are creating vast amounts of data that Middle East businesses are looking to leverage for actionable insights into their supply chain, research and product development, customer preferences, and location-based services and offers.
The advancing inter-connected Internet of Things (IoT) era will connect at least 50bn devices and generate US$14.4 trillion in value by 2020, according to a report by Stephenson Strategies and SAP.
Already SAP counts more than 370 SAP S4/ HANA customers worldwide.
Bin Sammar Trading & Contracting Company, one of Saudi Arabia?s leading contracting companies with 14,000 employees, is deploying SAP S/4 HANA solutions to drive the kingdom?s engineering, construction, and operations sector, especially for mega-projects in the infrastructure, transportation, telecommunications and housing.
?With the kingdom?s construction sector experiencing strong growth, our vision calls for utilising state-of-the-art technology to enhance our business and the kingdom?s infrastructure. Analysing data in real-time is transforming our supply chain, and project and talent management, ensuring that mega-projects are delivered on time and on budget,? added Shaikh Mus?ad Bin Sammar Al Otaibi, founder and chairman of Bin Sammar Trading & Contracting Company.
Al Khalili Group, one of Oman?s leading conglomerates, uses SAP S/4 HANA?s real-time dashboard to track and analyse 40,000-plus items in Oman and the UAE, helping to determine product stocking, leading to faster decision-making, boosting competitiveness, and enhancing the customer experience.
?With thousands of products and employees to manage daily, we needed greater visibility into the supply chain to track our customers? orders and stocking, and to enable our staff to further develop their technology skills in the digital economy,? said Jumana Al-Hashmi of Al Khalili Group.
SAP is now introducing the cloud edition of SAP S/4 HANA to help customers drive their digital business transformation with the simplicity of the cloud. With hybrid on-premise and cloud solutions for IT flexibility and accelerated business innovation, customers can run their entire enterprise in the cloud.
Dhiraj Daryani of research firm IDC noted, ?Data is growing at an unprecedented rate, driven by an explosion in the amount of mobile devices, cloud deployments, business transactions, digitisation, and collaboration on social platforms. The amount of information created and replicated is doubling in size every two years, and will reach 44 zettabytes, or 44 trillion gigabytes by 2020. Pioneering organisations in the Gulf states are investing in cutting-edge technologies to extract value from this rapidly growing data, which is available to them both from within their organisation and from external data sources such as social media feeds.?
Demonstrating the strong demand for SAP solutions in the kingdom, SAP Saudi Arabia recently received the ?Software Vendor of the Year? at the Channel KSA Awards for delivering a wide range of the latest and innovative technology solutions to marquee customers in the region.