Schneider Electric, specialist in energy management and automation, has introduced its new high-end Modicon M580 Ethernet programmable automation controller (ePAC) to the GCC region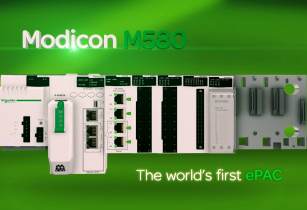 According to findings in the 2015 ABI Research report, the number of connected industrial controllers will triple over the period between 2014 and 2020. (Image source: Schneider Electric)
As the first PAC built for the Industrial Internet of Things (IIoT), it is the recommended controller of PlantStruxure?, the company?s automation architecture for industrial and infrastructure customers.
The flagship product of the Modicon range of controllers features hot standby functionality (HSBY), native Ethernet, and cybersecurity embedded in its core. According to the company, Modicon M580 provides total flexibility for operational efficiency for medium or large process applications in water and wastewater plants, mining, hydropower, oil and gas and transportation.
Deniz Akkaya, partner project and industry vice-president ? Gulf Countries, Pakistan and East Mediterranean, Schneider Electric, said, ?Addressing the latest automation trends and stringent requirements for the region?s industrial users, Modicon M580 ePAC has been designed to fill the void between a universal Ethernet backbone, a DCS, and a PAC. Cutting-edge functionality allows us to drive true customer benefit, thanks to a future-proof solution designed to meet the most pressing industry challenges.?
According to findings in the 2015 ABI Research report, the number of connected industrial controllers will triple over the period between 2014 and 2020. Given this growth rate of around 20 per cent and the GCC region?s need for interoperable and smart manufacturing solutions across various sectors, Modicon M580 will be a valuable addition to the market, Schneider electric added.