Schneider Electric, one of the leading providers in the digital transformation of energy management and automation, has launched a showcase of smart city innovations to enable residents and businesses to save time and money on their utilities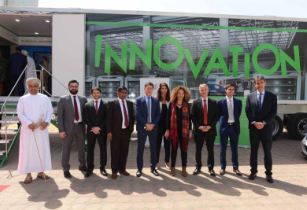 Renaud Salins, ambassador of France in Oman, with Hanan Darwish, cluster president for the Gulf and Pakistan at Schneider Electric, open the Innovation Hub on Wheels, showcasing smart cities innovations for Oman. (Image source: Schneider Electric)
The innovation was launched in partnership with Knowledge Oasis Muscat and the French Embassy in Oman.
In support of the Oman Vision 2020 nationwide transformation agenda, Oman?s utilities providers are heavily investing in the Internet of Things (IoT) innovations that can enable smart utilities. With the strong market opportunity, TechSci Research has predicted that the GCC?s smart grids market is expected to reach US$1.7bn by 2026.
?As Oman?s population and business sector grows, the government needs to ensure safe, reliable, and efficient utilities,? said Nasser Al Malki, acting director general of Knowledge Oasis Muscat. ?In partnership with Schneider Electric, we are digitally transforming with IoT solutions that can predict and meet energy demand and enable people to monitor and optimise their utility usage in real-time.?
Many of Oman?s innovators participated at the event held at the Knowledge Oasis Muscat. As part of the event, the Embassy of France in Oman and French-headquartered multi-national company Schneider Electric launched the Innovation Hub on Wheels.
The Innovation Hub on Wheels showcases 17 IoT use cases for Schneider Electric?s EcoStruxure architecture and platform, covering the segments of building, transportation, water and wastewater, oil and gas, utilities and data centre. Smart metres, remote terminal units and advanced distribution management systems can be combined to provide flexible and scalable platforms for smart utilities.
?In the face of Oman?s urbanisation, digitisation and industrialisation, utilities are modernising their technology infrastructure,? said Hanan Darwish, cluster president for the Gulf and Pakistan at Schneider Electric.
The company aims to closely work across Oman?s energy spectrum to drive smart grids and smart cities, from driving renewable energy production to identifying leaking pipes and supporting more energy-efficient smart buildings.