DHL Express, one of the leading international express services providers, has taken delivery of its first batch of Ford Transit vans from National Car Rental (NCR), one of the UAE?s leading car rental companies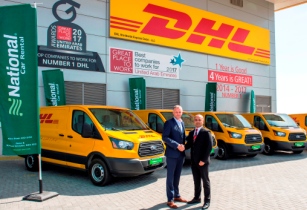 NCR-DHL handover. (Image source: DHL)
It is the first time that DHL Express will operate Ford Transit vans in the UAE fleet as it replaces its existing vehicles.
?At DHL, we are committed to continuous improvement and our Go Green initiatives. Ford Transit vans allow us to do that with their fuel-efficient and safe vehicles equipped with safety aids such as reversing cameras and blind spot eliminators making them ideal for our couriers,? Mike Barrett, vice-president for operations at DHL Express.
?Since the vehicles also have the convenient option of automatic transmission, we can employ female drivers in greater numbers, helping us to achieve another one of our major objectives to ensuring diversity within the workforce,? Barrett added.
DHL Express has won the UAE?s ?Great Place to Work? title four years running since 2014.
NCR is owned by Sanam Rent a Car, which is a subsidiary of Al Tayer Motors.
Speaking about the delivery, Rizleigh Grand, vice-president for rental and leasing at NCR, said, ?Ford Transit vans are part of our wide range of commercial vehicles. These vans can be serviced at any of the Al Tayer Motors Ford service centres in Dubai and the Northern Emirates, as well as at Premier Motors in Abu Dhabi. This reduces vehicle downtime and makes servicing very quick and convenient for our fleet customers. We also provide tailor-made solutions for their individual fleet requirements.?
Ford Transit vehicles aim to provide advanced safety and fuel economy. Some of the important features include roll-over mitigation that helps in keeping the vehicle upright during emergency evasive manoeuvres, full steel bulkhead for enhanced safety, load-through hatch in bulkhead enabling extra floor length to accommodate long objects, eight sidewall mounted tie-down points to secure cargo and optimise load space, 180 degree lockable rear 50/50 swing open doors and choice of dual and single side-door configurations.