India-based tire manufacturing company Balkrishna Industries has developed a wide range of tyres that aim to encounter the toughest and the most hostile terrains faced during mining and industrial activities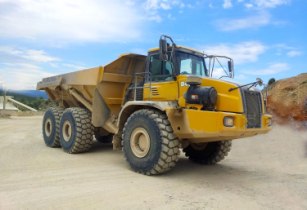 BKT has more than 25 years of global presence in the ?Off-Highway Tires? segment. (Image source: BKT)
?Make in India? for the global marketplace cannot be better demonstrated than Balkrishna Industries (BKT), a company with more than 25 years of global presence in the ?Off-Highway Tyres? segment. In the early 1990s when every other tyre company in India was busy producing highway tyres primarily for mass use, the leaders at BKT foresaw a unique opportunity in international business and started production in the ?Off the Highway? segment.
Today, BKT enjoys a principal presence in five continents around the world covering more than 130 countries. It is the preferred supplier to International OEM?s in industrial, construction and agricultural tire segments. Since its inception in 1988, BKT has grown into a diversified industrial major exporting its expansive range of off-highway solutions to the world.
Quality conscious users which adhere to stringent conformity standards in countries like Europe and the USA prefer BKT as their supplier. The international quality of BKT tires is achieved by using the foremost quality of raw materials that are processed through the most advanced and developed technology.
?Each product passes over 450 stages of tests. The result of this rigorous practice being that BKT products are known for their reliability and have the lowest claim ratio in the industry,? said Rajiv Poddar, joint managing director, BKT.
Currently, BKT has four functioning state-of-the-art manufacturing plants spread across India, the recent one being set up in Bhuj, Gujarat. The company provides more than 2,300 different stock keeping units (SKUs) for various kinds of applications.
The company has products from five-inch rim diameter to 54-inch rim diameter for vehicles ranging from trailers, forklifts, agriculture machinery, forestry, etc., to technologically advanced machines like high horsepower tractors, combines, harvesters, GPS controlled vehicles, articulated dump trucks, high-speed cranes, sophisticated port vehicles and container handlers, etc.
BKT is also the first tyre company in India to produce the All Steel Radial OTR tyres, which are produced at their Chopanki plant in the state of Rajasthan and Bhuj Plant in the state of Gujarat. OTR vehicles ranging from rigid dump trucks to Snow manoeuvring vehicles use these tires. The company has its own R&D centre, which develops these tyres that can encounter the toughest and the most hostile terrains faced during mining and industrial activities.
The tires under this segment range from a 20-inch diameter tipper truck size to a giant 51-inch rigid dump truck size in bias make and 49 inches in radial make, thus covering every requirement for Industrial use and mining.
BKT has been selling tyres to world?s leading OEMs too. The company recently launched an ultra-advanced range of tyres, especially for high-speed cranes. The tire 445/95 R25 enables heavy high-speed cranes to journey at speeds of 80km per hour.
For the agricultural sector, the company makes a range of tractor tires that are specially designed to carry higher loads on and off roads with minimal soil compaction in the field. These are available both in bias and radial make.
?We invest heavily every year into R&D, to upgrade our plant facilities and develop new products?, added Arvind Poddar, chairman and managing director, BKT. ?Our competition is with global tyre giants, so we always have to have an edge over technology if we have to compete with them. If you look at all steel OTR radial tires for mining, we are the pioneers from India?, he further stated.