Air BP has successfully completed its first fuelling at an off-airport site in the Middle East, at the HeliDubai heli-pad in Dubai Festival City (DFC)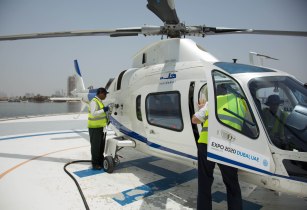 Air BP now has complete control of HeliDubai?s fuelling operations
Following a test refuelling of HeliDubai?s Augusta 109 by the Air BP operations team in June, the BP team has been handed complete control of HeliDubai?s fuelling operations.
Robert Gerritsen, Air BP general aviation business manager for the Middle East and Africa, said, ?We are very pleased to report that this project, which was first conceived in 2012, has finally culminated in the first fuelling at the HeliDubai Festival City heli-pad. The fuelling was very successful and the operation went very smoothly.?
Furthermore, HeliDubai became Air BP?s first customer in the Middle East to sign up to its Operations Manual for External General Aviation (OMEGA) programme.
According to Air BP, OMEGA is a tailored operational support and training programme, designed to ensure that customers such as airport operators, heliport operators, and refuelling contractors can achieve high levels of operating standards when handling fuel.
Having opened in 2013, the heli-pad in DFC consists of two pads with a total capacity of 15 mt, and HeliDubai is one of UAE?s premier helicopter service providers.
Air BP is the aviation division of BP and, with more than 1,100 employees, it is one of the largest suppliers of aviation fuel products and services worldwide. According to company figures, it currently provides approximately seven and a half billion gallons of jet kerosene and aviation gasoline to its customers every year.