Bahrain?s national carrier Gulf Air and Omani airline Oman Air have re-routed flights in order to avoid flying over northern Iraqi airspace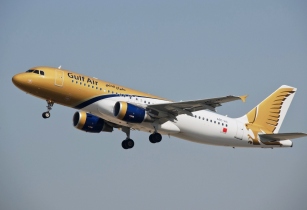 Gulf Air is working with government and air traffic control authorities to prepare for any eventuality. (Image source: Gulf Air)
In the wake of security concerns, Gulf Air has announced that it has re-routed its European flights and, henceforth, would use only secure air paths.
The carrier?s existing Iraq operations - three weekly flights to Baghdad and daily flights to Al Najaf - are being reviewed daily. Gulf Air is working with government and air traffic control authorities in Iraq to prepare for any eventuality, stated the airline?s officials.
Meanwhile, Oman Air has confirmed that it has re-routed its flights to and from Muscat to avoid flying over Iraqi territory.
Passengers travelling in and out of European destinations and Beirut, Lebanon can expect delays and are advised to check with local Oman Air offices regarding flight schedules.
Paul Gregorowitsch, CEO of Oman Air, said, ?This measure was taken as part of our ongoing review of flight paths between Muscat and Europe, and follows our decision in 2014 not to fly over Ukraine, and in 2013 not to fly over Syria.?
?Geo-political developments are considered alongside a range of other issues and our forward planning can result in changes some time before they become a statutory requirement,? he added.