Enova, a facilities management company for airports, and Inmaquip, which makes jet bridges, said they had signed a memorandum of understanding (MoU) to combine their services for better passenger comfort and safety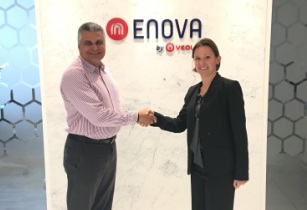 Enova, Inmaquip will combine their services to meet airport needs. (Image source: Enova)
The partnership will allow the companies to better handle airport services in the Middle East, which are expected to see higher air traffic.
Air traffic is expected to double by 2031, according to projections from the Airports Council International (ACI). The Middle East is expected to be responsible for nearly 18 per cent of this growth, as the government in the region try to position themselves as trade and investment hubs.
?As air travel is booming, accommodating the growing flow of passengers and ensuring 24/7 service continuity is one of the biggest challenges of airport management. Airports face fierce competition forcing them to expand and re-invent their services to suit both increased air traffic and high passenger expectations,? said Anne Le Guennec, CEO, Enova.
?Our newly formed partnership with Inmaquip allows Enova to enhance the service offering tailored to the aviation sector, enabling us to provide an all-encompassing solution,? Le Guennec said.
?This venture fits perfectly with our vision to become the most reliable global solution provider for the installation and maintenance of specialized airport equipment. In Enova, we have found the ideal partner, potentiating our services and enabling us to satisfy our clients? needs even more efficiently. Our customers will benefit from a local presence and professional support, provided under a very competitive model,? Pablo Steer, CEO, Inmaquip, said.
Enova was established in 2002 as a joint venture between French utility Veolia and Dubai-based Majid Al Futtaim, which operates shopping malls in the Middle East.