Siemens Postal, Parcel and Airport Logistics (SPPAL) has signed a MoU with Dubai Airports to enhance passenger experience and throughput, cost optimisation and energy efficiency at Dubai International Airport (DXB) and Dubai World Central (DWC)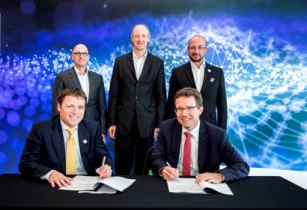 The agreement focuses on using data analytics to improve airport optimisation and passenger journey. (Image source: Siemens)
The MoU aims to explore potential areas of collaboration in the fields of data management, analytics and digitalisation.
The agreement also focuses on utilising IoT technology and infrastructure as well as analytics capabilities, establishing a standardised and secure way to exchange quality-assured data across different stakeholders at the airports in real-time.
For the digital technologies, Siemens is using MindSphere, its open, cloud-based operating system for the applications of IoT.
?Through this agreement, we would seek to help Dubai Airports improve ultimately the overall customer experience by analysing various elements of airports technology, including passenger flows and interactions with airport facilities and existing bag and cargo flow. The use of the latest technology in data science will optimise the flow at each touchpoint and enhance productivity and efficiencies for the benefit of Dubai Airports and its customers,? said Michael Reichle, CEO of SPPAL.
?Our ongoing focus is to use data, analytics and technology to boost service, throughput and efficiency across the board simultaneously,? said Michael Ibbitson, executive vice-president of technology and infrastructure at Dubai Airports.
Under the MoU, activities of collaboration also cover joint opportunities for pilot studies as well as research and development. The companies will examine opportunities ranging from intelligent passenger flow management, maintenance cost reductions, power supply efficiencies and predictive asset management.
In addition, Siemens also plans to set up two MindSphere Application Centres in the UAE, located in Dubai and Abu Dhabi. The MindSphere Application Centre in Dubai will handle airports, logistics and cargo to co-develop innovative approaches to improve the movement of people and goods. The other Abu Dhabi centre will cater to process industries, mainly focusing on oil and gas, water and wastewater, enabling customers to improve operational efficiency and reduce their costs across the whole value chain.