Dubai-based budget airline, flydubai, has opened a new maintenance facility for its fleet of Boeing 737-800 aircraft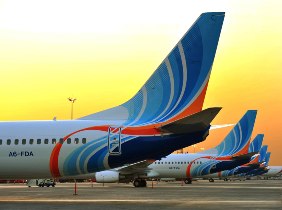 The 50-strong flydubai fleet is made up entirely of Boeing 737-800 planes.
The facility will focus on the maintenance, repair and overhaul of wheels and brakes on the single-model fleet of 50 planes. Located within Dubai International Airport, the new facility covers an area of 365.21 sqm. It has been certified as an Approved Maintenance Organisation (AMO) by the General Civil Aviation Authority of the UAE and it is capable of processing up to 10 units per day.
As well as this new Dubai-based facility, Jordanian company, JorAMCo provides heavy maintenance services for flydubai from its five hangars based at Amman's Queen Alia International Airport free zone. The flydubai-JorAMCo partnership was extended in November 2015 and this latest contract will last until December 2017.
With an average plane age of 3.1 years, the flydubai fleet is one of the youngest in the skies. The budget airline is planning to expand its fleet by 2023 by taking delivery of 100 additional planes, all Boeing 737-800 models.