Kuwait Airways Corporation (KAC) has signed a contract with Incheon International Airport Corporation (IIAC) Korea to operate the new T4, in addition to a service level agreement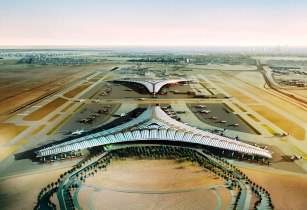 T4, which was planned and built within two years, is a 14-gate facility which is designed to handle an extra 4.5 million passengers annually. (Image source: Wikimedia Commons)
The contracts were signed between KAC chairman of the board Yousif Abdul Hameed Al-Jasem and Incheon International Airport project manager Lee Kwang-Soo.
According to the five-year contract, IIAC is to operate T4 which will be exclusively used for KAC flights.
Al-Jasem told KUNA that by signing this agreement, Kuwait Airways will be able to operate all its flights heading to all of the GCC.
?There will be 26-34 flights per day both coming to and departing from Kuwait. The agreement with IIAC will be valid for five years and will include the handling of operations for daily flights as well as any future increase in operation capacity with the coordination of the general department of civil aviation.?
He added that flight operations will begin with the GCC but will expand to the rest of the Middle East, Europe, USA, the Indian subcontinent and South East Asia in the future.
DGCA general manager Yousif Al-Fauzan stated, ?It takes up to two years to get an airport terminal to reach its maximum operations levels. But the DGCA managed to start operations in a shorter than average time according to International standards.?