The International Air Transport Association (IATA)?s global passenger traffic and freight traffic reports have revealed that the Middle East market has fared well, compared to other markets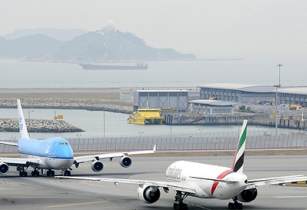 Middle East freight recorded an increase in demand of 18.1 per cent, and passenger traffic grew by 14 per cent. (Image source: Christian Junker AHKGAP/Flickr)
IATA, which represents nearly 260 airlines comprising 83 per cent of global air traffic, revealed results of the two reports early last week. According to the organisation, Middle East freight carriers have recorded an increase in demand by 18.1 per cent, based on the increase in trade within the region. In addition, shippers in the region have taken advantage of the Gulf carriers? hub strategy. Overall capacity expanded 19.4 per cent.
However, the global data wasn?t as promising. IATA director general and CEO Tony Tyler said, ?Cargo growth has undoubtedly come off the boil. The expansion in volumes we saw in 2014 has ground to a halt, and load factors are falling. Some economic fundamentals still point to a rebound in the second half of the year, but we have to recognise that business confidence is flat and export orders in decline. There is also the risk of a shock to the economic system of a ?Grexit? from the Eurozone.?
Air freight plays a critical role in global trade, transporting some 35 per cent of goods traded internationally, stated IATA. The slowdown in air freight reflects a general slowing in world trade at a time when it is needed most to reinvigorate faltering economies. Later this week, governments are meeting in Geneva to discuss ?aid for trade? and the World Trade Facilitation agreement. If implemented, this could boost world GDP by up to US$1 trillion.
Regarding air passenger traffic, IATA expects a slightly better outcome this year, but is not ignoring the possibility of ?storm clouds in the horizon?, mainly attributed to the ongoing financial crisis in Greece. IATA analytical experts have stated that Greece?s situation as well as the dip in regional trade in the Asia Pacific belt could dampen performance, and affect the overall statistics in 2015.
Despite unflattering global numbers, the Middle East continued to emerge as a bankable market. May demand soared 14 per cent over the same month in 2014, spurred by business activity in non-oil sectors and possibly, additional travel prior to the arrival of the month-long Ramadan period that began in June. Capacity rose 19.7 per cent and load factor fell 3.7 percentage points to 74.6 per cent.
?As we enter the busy summer travel season in the northern hemisphere, millions of people will rely on aviation to explore the world or reconnect with friends and family. The mobility that is taken for granted by these travellers is the result of the efforts of 2.5mn air transport professionals working in careful cooperation to ensure safe journeys,? said Tyler.
However, the IATA chief mentioned that inadequate and inefficient airport infrastructure were main causes for delays and crowded airports. These should send strong signals to governments to address critical choke points, implement risk-based security and advance much-needed air traffic management modernisation, he added.