Mubadala, the Abu Dhabi government owned investment company and Solvay, the Belgium chemical and advanced materials company have announced the establishment of a joint venture company to manufacture primary composite materials in the UAE for the aerospace industry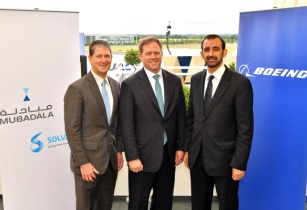 Solvay member of the executive committee Roger Kearns, Boeing Commercial Airplanes vice president and general manager supplier management Kent Fisher and Mubadala CEO of aerospace and engineering services Homaid Al Shimmari at the Farnborough International Airshow, UK. (Image Source: Mubadala)
The joint venture will become the first manufacturer in the UAE of ?prepreg? composite materials for the aerospace industry. The venture has been awarded its first primary materials supply contract by Boeing. The joint venture will be located in the centre of Abu Dhabi?s growing aerospace hub, the Nibras Al Ain Aerospace Park (Nibras) and will be established through Strata Manufacturing, Mubadala?s advanced aerostructures manufacturing business.
Mubadala Aerospace & Engineering Services CEO Homaid Al Shimmari said, ?Today?s announcement with Solvay Group, fortifies Mubadala?s status as a driver for creating an advanced manufacturing and aerospace cluster in the UAE. The joint venture will create new job demand for highly skilled Emirati engineers, alongside existing talent that are currently employed by Strata.?
As part of the agreement, the new company will produce primary structure composite material for use in manufacturing the 777X empennage and floor beams.
Solvay CEO Jean-Pierre Clamadieu commented, ?Solvay?s teaming up with Mubadala in this essential project in support of Boeing?s growth plans showcases our capabilities in advanced aerospace composite technologies, including primary structure applications.?
The partners expect the JV to be operational by 2021.
The announcement follows the strategic partnership both companies established in 2013 to reinforce the development of prepreg manufacturing capabilities in Abu Dhabi.