Bahri, provider of transportation and logistics solutions, has signed a joint venture (JV) agreement with Saudi Aramco, Lamprell plc and Hyundai Heavy Industries Co. Ltd. (HHI) to build and operate Middle East?s largest maritime yard within King Salman International Complex for Maritime Industries and Services located in Saudi Arabia?s Ras Al-Khair Industrial City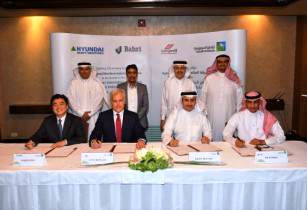 Officials at the signing of the joint venture. (Image source: Bahri)
Touted to be the largest in terms of scale and production capacity, the new facility will have the capacity to manufacture four offshore rigs, over 40 vessels including three very large crude carriers (VLCC), and service over 260 maritime products annually.
Major production operations are expected to commence in 2019, with the facility reaching its full production capacity by 2022.
According to the company, this cooperation underlines Bahri?s commitment to achieving the Saudi Vision 2030, as it will contribute to the enhancement and diversification of the national economy, boost the kingdom?s GDP in the coming years, and develop the local industry and service sector.
It will also help promoting the transportation and logistics sector, creating thousands of new and sustainable job opportunities, and localisation of talent associated with the maritime industries. This strategic partnership also aims to capitalise on the rapidly-growing maritime requirements in the region by offering globally competitive, safe, high-quality and on-time solutions.
Ali Al-Harbi, acting CEO, Bahri, said, ?Our JV with prominent entities such as Saudi Aramco, Lamprell plc and Hyundai Heavy Industries to establish and operate a cutting-edge maritime yard facility in Saudi Arabia will aid in the enhancement of our service portfolio and optimise efficiency and performance of our business verticals. As demand for maritime services continues to rise, joint ventures like this serve as a significant strategic step towards helping industry players meet the growing need of customers, while also maintaining the highest service standards.?