DHL Global Forwarding, the air and ocean freight specialist of Deutsche Post DHL Group, has expanded its GoGreen Plus Service to provide real emissions reductions through carbon insetting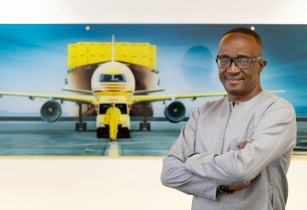 Amadou Diallo, CEO, DHL Global Forwarding Middle East & Africa. (Image source: DHL Global Forwarding)
After successfully introducing the GoGreen Plus Service for ocean freight, customers can now also easily neutralise their CO2 emissions for air freight on all trade lanes. Following the one atmosphere approach, emissions are reduced by replacing the amount of conventional fossil fuel needed with sustainable fuel. Customers can easily pick and choose which parts of their supply chain they want to truly decarbonise.
The GoGreen Plus Service can be easily added while booking online, e.g., an air freight shipment via the myDHLi customer platform. The launch of Deutsche Post DHL Group?s decarbonised range of GoGreen Plus products is a crucial milestone in making the global logistics industry greener and more sustainable. Other divisions are also in the process of developing their GoGreen Plus Service, as a part of Deutsche Post DHL Group's sustainability strategy and designed as a group-wide service offering.
Amadou Diallo, CEO, DHL Global Forwarding Middle East & Africa, said, ?The GoGreen Plus Service will enable our customers in the MEA region to fulfil their decarbonisation ambitions, with clear and measurable results. The UAE?s strategic plans to achieve net zero emissions by 2050 is central to the region?s long-term goals to transition to climate neutrality in the next three decades. DHL?s GoGreen Plus Service will enable countries like the UAE to fulfil their environmental targets. Our climate protection initiatives and CO2 emission reduction programmes in transportation are already positively impacting logistics supply chains around the world. The GoGreen Plus service will strengthen this mission and pave the way for more sustainable supply chain management systems in the future.?