Construction is underway on GAC Qatar?s new 27,000 sqm multi-user contract logistics facility after the groundbreaking ceremony in the Ras Bufontas Free Zone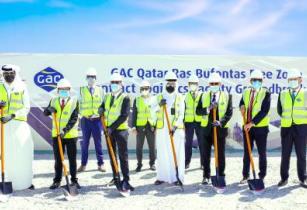 The facility is expected to be completed by early 2022. (Image source: GAC)
It follows the signing of an agreement between GAC and Qatar Free Zones Authority (QFZA) in February this year. The facility is expected to be completed by early 2022. It will be built from sustainable materials, partly fuelled by solar power, have several energy-saving features and use recycled water in its operations.
Lim Meng Hui, the CEO of QFZA, said, ?It is our pleasure today to be part of the groundbreaking ceremony for GAC logistics facility in Ras Bufontas Free Zone, which will be a showcase of sustainable building development. This facility will contribute towards Qatar as a regional logistics hub and good ecosystem for our investors to run their operations sustainably out of the free zones.?
Bj?rn Engblom, GAC group executive chairman and trustee said that Ras Bufontas Free Zone was a natural choice for the Group?s footprint expansion in the region. He added, ?Its strategic location and excellent connectivity to the Hamad International Airport and the Hamad port put us right at the heart of all the trade activities. This facility will be a boost to our capabilities and will allow us to better serve the growing and increasingly complex logistics and supply chain needs of our customers.?
The facility is expected to be completed by early 2022.