Khalifa Industrial Zone Abu Dhabi (KIZAD), a subsidiary of Abu Dhabi Ports, has announced the ground breaking for its new products to support and increase the demand for pre-built facilities in KIZAD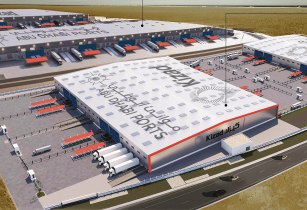 KIZAD, the region?s largest industrial zone, announces it has broken ground for the latest phase of its light industrial units at KIZAD Logistics Park (KLP). (Image source: KIZAD)
The range of small-to-medium light-industrial warehousing units comprise the fourth, fifth, sixth and seventh phases of the KIZAD Logistics Park and are set to be introduced to the market starting from the end of the year to cater to increasing customer demands for additional ready to move facilities.
The developments in KLP 4 and KLP 5 span total plot area of approx. 250,000 sqm, and offer a range of mixed-use warehousing and light industrial units. These comprise of 26 showroom warehouse units (24 units of 795 sqm and two units of 1,920 sqm) and 88 small-to-medium light-industrial and warehousing units (76 units of 500 sqm; six units of 1,000 sqm; one unit of 1,666 sqm; and six light industrial units of 1,028 sqm).
Abdullah Al Hameli, acting head of industrial zones cluster, Abu Dhabi Ports, said, ?Industrial activity and warehousing demand has been quite resilient, and we are confident that launching these ultra-modern units will propel tremendous growth in Abu Dhabi?s manufacturing base. Customers are looking for flexible and asset-light options, and we are expanding our portfolio to address these needs through the launching of modular, pre-built units in various sizes and configurations.?
?With the availability of options to buy or lease warehouses based upon a business?s individual requirements, investors are benefit from our flexible offers for low-cost operations at scale as well as our ability to offer the region?s lowest utility costs. This is complemented by the unique location at the industrial heart of the UAE, and its direct access to global markets via our flagship deep-water port, Khalifa Port.?
KLP?s launch is the latest in a series of recent developments announced by the Middle East?s largest industrial zone. Earlier this month, KIZAD broke ground on a dedicated Truck Plaza, the largest in the region, to meet the needs of truck drivers and the zone?s growing industrial community.