As part of its plans to make Saudi Arabia a hub in the trade exchange movement between the continents of Europe, Asia, and Africa, Saudi Ports Authority (SPA) is planning to set up the kingdom?s largest integrated logistics zone, according to a news report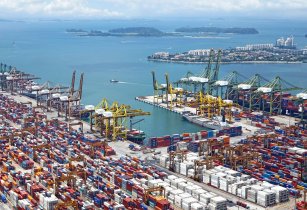 The logistics zone will be a customs depository and re-export platform as part of its efforts to optimise the utilisation of its advanced capacities at Saudi Arabia ports. (Image source: Jason Goh/Pixabay)
Trade Arabia reported that the logistics zone will be built in phases, with the phase one exceeding 2 million sq m, citing Yasser Abdulaziz Al Misfer, a general overseer of the marketing and corporate communication department and adviser to the minister of Transport.

It will be a customs depository and re-export platform as part of its efforts to optimise the utilisation of its advanced capacities at Saudi ports, according to Yasser.
A formal announcement on the logistics zone will be made by the SPA at the third Saudi Logistics Conference to be held in Riyadh from 13-15 October.About 2,000 experts specialised in the supply chain and logistics sector and several investors will be attending the top event being patronised by minister of transport Nabeel Mohamed Al Amudi, said Al Misfer, also the chairman of the conference supervisory committee.