Vibhu Kapoor, regional vice president - Middle East, Africa & India, at Epicor, highlights the several use-cases for digitalising supply chains. Read on: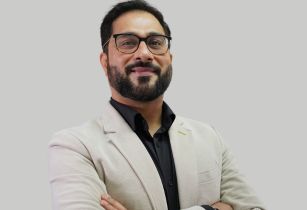 Vibhu Kapoor, regional vice president - Middle East, Africa & India at Epicor. (Image source: Epicor)
Supply chains are part of a small family of invisible elements we humans rely upon daily. Like its relatives, electricity and telephony, we only notice it when something goes wrong. The COVID pandemic hit global supply chains hard. While a relatively small part of the underlying problem, images of the Ever Given container vessel stuck in the Suez Canal have come to symbolise a problem discussed at the highest levels of government. Our leaders must now consider issues such as speed of recovery and fail-safes, and calculate the economic impact of inaction. Topics such as risk management, optimisation, and near-shoring have shot to the top of boardroom agendas.
According to a report by KMPG from Q3 2021, at the height of the crisis, food retailers and FMCG businesses in the United Arab Emirates (UAE) were "struggling to continuously define optimal inventory levels". The UAE imports 85% of its food, with much of it coming from as far afield as Brazil and the US. The report referred to plummeting customer satisfaction ratings, due to stock shortages, a lack of information about order status, and expected delivery times.
The modernisation of supply chains remains critical to economic recovery and ongoing growth. The UAE minister of state for foreign trade said as such in January at the annual World Economic Forum conference in Davos, Switzerland. Apart from the core existing problem — that the capacity, availability, and reliability of labour, warehouses, ports, shipping containers, and the ships themselves simply cannot keep pace with consumer demand — an exacerbating element has arisen. Sustainability. Egypt's COP27 and the UAE's COP28 place the region in plain view of the world. While these 13-day summits are not the only reason for concern over the sustainability of supply chains, they are a significant one.
Manufacturers, step forward
EY recently reported that more than 90% of the average organisation's greenhouse gas emissions, and up to 70% of its operating costs, are attributed to supply chains. Addressing this, the report rightly pointed out, will be central to making good on environmental, social and governance (ESG) pledges. Let us take manufacturing businesses as an example. What we are seeing right now is a global awakening to the fact that time is running out for us to leave a habitable biosphere for future generations. We see new environmental legislation and increased consumer demand for sustainable practices. Retailers and customers are demanding to be provided with more than just basic product information on a product's labelling.
These attitudes have given way to changing laws around the world on plastics and recyclable packaging. Manufacturers must figure out how to comply with all this and ensure the sustainability of their supply chains while remaining profitable. And they must prove that their products are also sustainably sourced as part of a move towards a circular economy.
Managing the sustainability of their supply and value chains must now occur alongside manufacturers' other change projects such as digital transformation and the upskilling of staff. But EY tells us that a third of companies have yet to come up with a business case for sustainable supply chains and almost half are facing issues when trying to measure returns on such activities. So, how can manufacturers embed sustainability into their extended supply chains to support long-term growth and profitability?
See far, see wide
Visibility comes first. And its benefits are two-pronged. First, businesses get the metrics they need to drive sustainability decision-making, and second, they can identify other inefficiencies. Enterprise resource planning (ERP) solutions are going to play a key role in the delivery of sustainable supply chains. They are already invaluable in helping businesses demonstrate how their products are being manufactured and distributed across each link in the chain. And they routinely support the identification and eradication of inefficiencies in processes and resources.
One of the most powerful capabilities of ERP, when it comes to sustainability programs, is reporting. In carbon-reduction and ESG journeys, reporting comes up often. Project managers need it, stakeholders demand it, and investors call for it. And the public expects it. Reporting tools are a standard part of ERP systems. They are not only essential to providing transparency to the outside world in light of promises made; they give manufacturers an accurate way of assuring themselves that their products are sourced and manufactured in an environmentally responsible way.
ERP solutions are, by their very nature, tied into every aspect of the business. Like a nervous and respiratory system rolled into one, the integrated ERP platform captures end-to-end product data across a digitally connected supply chain. This is essential to calculating the true cost of compliance for manufacturers. Any change to the manufacturing process can be acted on with the touch of a button to ensure that products are still profitable and, crucially, affordable for their customers.
A green chain
It is important to understand what we mean by a "digitally connected supply chain". The data the system gathers covers every link in the chain. With today's heightened scrutiny, businesses are on display to the communities they serve. They have made public pledges on carbon emissions, waste, water usage, energy consumption, and more. But a connected public, and the regulators and governments that represent them, cannot be fooled for long. An enterprise can no longer claim to be "green" if the companies it buys from are not. Transparency is critical, and so genuine compliance is unavoidable.
This new push for sustainability in supply chains is not a cynical matter of "if you can't beat 'em, join 'em." It is nothing less than an opportunity to lead and establish a legacy that outlasts the crisis. ERP systems are therefore a tool for visionaries who can champion change and, in a very real sense, save the world.